The retirees stranded with Kristen Bell during Hurricane Irma sent her a virtual "hug," and it's so forking pure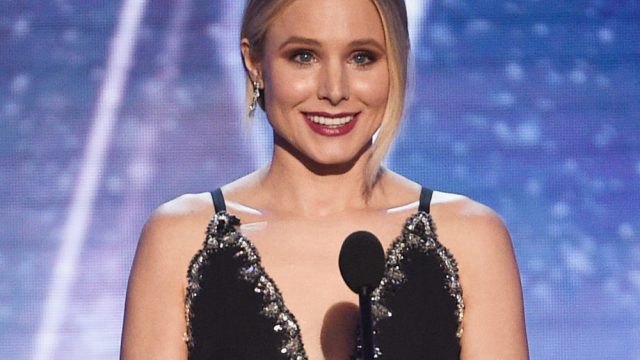 You might recall that Kristen Bell was recently stranded due to Hurricane Irma, and hung out with some retirement community members who were also displaced. Well, four months later, those fellow strandees haven't forgotten her. In fact, they've gone above and beyond to make her smile: Some of the retirees who were stranded with Kristen Bell during Hurricane Irma sent her a message ahead of the SAG Awards, and yeah, it's really forking pure.
E! News reached out to the seniors from the Atria Senior Living centers who were stranded with Kristen Bell at the Walt Disney World hotel, and were able to show her their sweet messages before she took the stage to host the 2018 Screen Actors Guild Awards Sunday night.
"Kristen, from everyone here at Atria, we would like to thank you for weathering Hurricane Irma with us," the video message begins, before delving into several individual messages that will definitely make you cry (and laugh, and warm your heart).
But actually, there are so many highlights.
One woman congratulates Bell on hosting the "hug awards," before a friend corrects her and tells her that it's the SAG Awards. (But like, should hug awards be a thing??) Another woman tells Bell she wants to give her a hug (in honor of National Hugging Day) and then hugs a large Princess Anna doll.
But maybe the best part of the video is when one woman tells Bell, "That husband of yours is pretty good looking, can I hug him?" To which Bell responds, "Get in line."
Honestly, the whole video is adorable and is just further proof that Bell is basically a real-life Princess Anna. Now, if we could get another video from these delightful retirees, with their thoughts on Kristen Bell's turn as SAG Awards host…
Ready, internet? Let's make it happen.