You can beat Kristen Bell in a head-to-head virtual game night—all for a good cause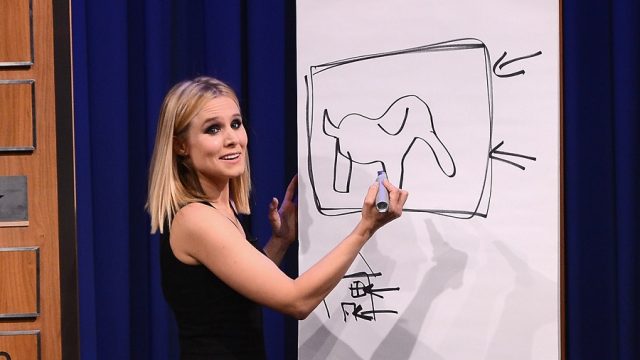 It is now possible for you to play a game of Heads Up! with Kristen Bell, because what even is life anymore? For a more precise explanation: Bell is teaming up with online fundraising platform Omaze to offer one lucky winner the chance to join in on her virtual game night. All contributions to the sweepstakes will go to the Mayor's Fund for Los Angeles' Emergency COVID-19 Crisis Fund.
According to Omaze, "Kristen will call [the winner] over video chat so the two of you can go head-to-head in a hilarious game of Heads Up!" all from the safety of your own home. In her own Instagram announcement, Bell says you could play any other game you want instead. ("As long as it's over video chat, so we probably can't play Jenga," she joked.) Importantly, the announcement also suggests drinking wine (or cocoa) and putting on a hydrating mask while this happens.
To enter Bell's newest competition, you can choose to donate either $10, $25, $50, or $100 to the fundraiser.
Technically, you can still enter the competition without donating. But if you can donate, we'd recommend it. Omaze will give 100% of these donations to the L.A. Emergency COVID-19 Crisis Fund, which provides crucial support, services, equipment, and relief efforts to LA residents, small businesses, and healthcare workers most affected by the coronavirus (COVID-19) pandemic.
https://www.instagram.com/p/B-cc_aVJZMn
Bell and her husband, Dax Shepard, are clear on their love for game nights. (Truly, they are invited to ours anytime.) Back in November 2017, they also worked with Omaze on a fundraiser for Opening Act, a nonprofit organization that provides theater programs for underserved students in the New York City public school system. The winner of that competition also won a game night—although that winner was able to play board games with Bell and Shepard in person. (Remember when we could do things with each other in person?)
The raffle is open until April 30th, and a winner will be announced on or around May 13th. Enter for your chance to win right here. May the luckiest quarantiner win!
As information about the coronavirus pandemic rapidly changes, HelloGiggles is committed to providing accurate and helpful coverage to our readers. As such, some of the information in this story may have changed after publication. For the latest on COVID-19, we encourage you to use online resources from CDC, WHO, and local public health departments, and visit our coronavirus hub.