Kristen Bell finally got an Instagram and her first pic will destroy your heart
Stop everything you're doing because Kristen Bell – the actual Kristen Bell – just created her Instagram.
To announce this wonderful news to the world, Princess Anna Kristen had this to say on Twitter (where she's been connecting with the virtual world since July 2009):
Bonus: her first Insta pic has us sobbing because it's adorable. Actually, it's more than that. It's a word that hasn't been invented yet because, up until now, no one has seen this level of adorableness:
In response to her caption – "I don't know how to use Instagram but I do like this picture" – all we have to say is: We do, too, Kristen! We are also fans of this snapshot and currently have hearts for eyes!
Plus, to prepare for this momentous occasion and flex her Instagram muscles, the actress took over Walt Disney Animation Studios's official account. How is this possible, you ask? Well, Kristen is voicing a sloth (of course) in Disney's upcoming animated film Zootopia (which premieres today and will be released on March 4th). So, everyone wins!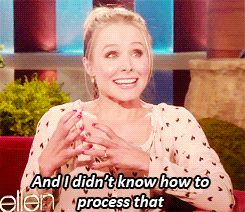 As a result, in addition to her own Instagram pic, Bell has also shared an image of her adorable pup Lola, a "I woke up like this" moment captured by husband Dax Shepard, a super casual pic of her driving in the rain, and her pre-premiere routine. Naturally, our fave is Lola:
Hopefully, Kristen will be sharing more puppy pics on her own Instagram. But, in the meantime, we're going to give her first post another round of applause.