Kristen Bell says she and Dax Shepard had a "pretty incredible fight recently," and it started over towels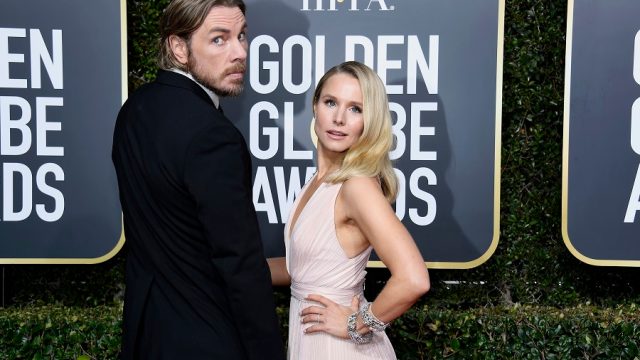 Kristen Bell and Dax Shepard, who just celebrated their fifth wedding anniversary in October 2019, have always been open about the ups and downs of their relationship. On a recent episode of actor Justin Long's podcast, Life Is Short with Justin Long, Bell stayed true to that openness and described a "pretty incredible" fight she had with Shepard that started over folding some towels.
"We had this pretty incredible fight recently," the Frozen II star told Long on the January 28th episode, according to People. "Incredible. I mean like top-of-the-lungs screaming."
Bell said the fight spawned from her needing help with certain things around the house.
"We have a relationship where you are supposed to be able to say, 'I need your help with this,'" she explained. And one of the things she recently needed help with was the laundry.
https://www.instagram.com/p/B35B631JWdd
Bell told Long that, one day in the not-so-distant past, she left a note for Shepard in which she asked him to do a few chores while she was out for the day. "I left a note and I was like, 'Hey dad! Would you mind taking the two towels in the dryer and folding them' and then like one other thing. I thought, 'That's 10 minutes of work, I can say that.'"
"I came home on Sunday, everything was fine," she said. "Monday night we're laying in bed and… he goes, 'When you leave me notes, yeah, I feel really controlled,' and he launched into how he felt about it. And I said, 'OK, I totally hear you. It will never happen again. If I need something to be done around the house what is a way I can do it, that you'd be OK with hearing?'
Although that seemed like a calm and constructive response, Bell said both she and Shepard "blacked out" and immediately got into a fight.
https://www.instagram.com/p/B6AAbsvptjC
"I don't actually remember what happened but what transpired was a lot of volume, a lot of harsh words being thrown around, and it was an angry, angry fight about how nobody does anything for anybody else, Bell told Long. "I grabbed my pillow and stomped down the hall and I sleep in the front room and I'm crying. We don't talk for three days," except when it came to parenting their two daughters.
The pair made up when Bell took her daughters to a dog cafe and FaceTimed Shepard when they met a rescue named Frank. Shepard ultimately told Bell that he wanted her to take Frank home with them, despite him being allergic to dogs.
"I didn't get an apology, but I got a dog!" Bell said. "This is so much better than an apology. So I bring the dog home, it's great."
https://www.instagram.com/p/B35FQHUpAxs
Bell continued that she and Shepard never talked about that fight, "but I will say this: Every single thing that I have needed done or thought, 'I'd want help with this,' since that fight, he has been ahead of. I couldn't complain about him if I tried right now."
Earlier in the episode, Bell told Long, "Something happened with Dax and I early on where we decided we were never going to not be asked about our relationship. So if we were going to talk about it, let's make sure we show the good, the bad and the ugly and how we handle it."
She continued, "Let's not make it saccharine, and we really try hard to not make it saccharine, and we talk about the fact that we do fight, we do go to therapy, we dislike each other a lot sometimes."
In May 2019, Bell told us that she and Shepard decided to go to therapy early on in their relationship, "not necessarily because we hated each other, but because we wanted to better handle the opposition we were feeling," adding that they feel a responsibility for being so open about the lights and darks of marriage due to the fact that they're seen as #couplegoals.
Relationships aren't all rainbows and sparkles. They're tough and sometimes ugly. Thankfully, Bell and Shepard remind us that healthy relationships are always a work in progress, and they aren't afraid to show what that hard work looks like.