Kristen Bell won't let you mom-shame her because her 5-year-old is still potty training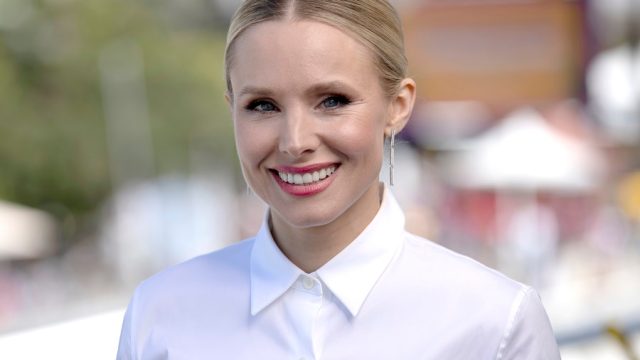 For any parents out there who are having a lengthy potty training experience, Kristen Bell wants you to know you're not alone. On the web series Mompslaining with Kristen Bell, the actor explained that her 5-year-old daughter, Delta, wears diapers. This helped Bell realize how different every kid is because potting training her now 7-year-old, Lincoln, was far different.
"My oldest daughter, at 21 months we merely suggested that she use the toilet in the other room," Bell told her guests and fellow moms, Maya Rudolph and Casey Wilson. "Never wore a diaper beyond that."
She continued, "And we were lying in bed giggling, my husband and I, like why does everybody make such a big deal of potty training? It's, like, so easy. Just tell the kid to use the toilet. Currently, my youngest is 5-and-a-half, still in diapers."
Rudolph responded with something every parent understands: "It's real relative, isn't it?" Bell replied, "Yes, because every kid is so different."
The Momsplaining episode was clearly filmed before isolating for coronavirus (COVID-19) became commonplace. Now that Bell, her husband, Dax Shepard, and their two daughters are practicing social distancing, she's been sharing parenting updates from home. For instance, on May 12th, she posted an Instagram of herself trying to homeschool her kids that shows one of them leaning on her arm, one of them on her shoulders, and her dog sitting on her lap. She captioned the picture, "Homeschooling's going okay."
In the comments of the Instagram post, Bell also shared a method she used when her younger daughter was feeling upset. In response to a follower asking about the papers hanging on her window, Bell wrote, "My 5 year old was feeling frustrated, so we made a list of things she's allowed to control, to make her feel better. Her list includes: 1. When I get my gummie vitamins 2. When I wear my diaper 3. When I have my breakfast :)"
Whether on Instagram, on her web series, or in interviews, Bell is making sure other parents know they're not the only ones going through difficult, unpredictable, or just plain messy times. If you really need some reassurance, just watch the full Momsplaining episode. Kids accidentally peeing on other people? It's a thing.
Lia Beck is a writer living in Richmond, Virginia. In addition to Best Life, she has written for Refinery29, Bustle, Hello Giggles, InStyle, and more.
Read more