Kristen Bell's daughter trolled her parenting during a quarantine activity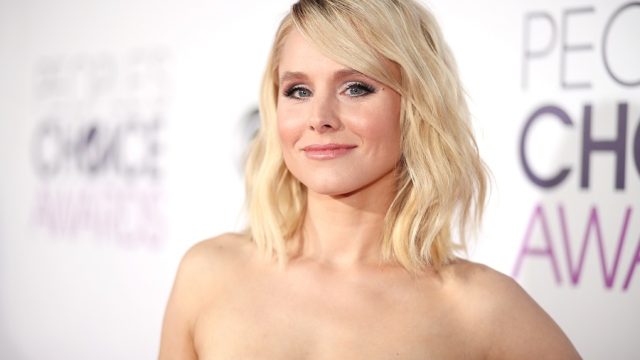 Having to homeschool their kids for the past month or so has proved to be a difficult task for most parents-turned-teachers. Kristen Bell's experience with having to be both mother and first-grade teacher is seemingly not going as well as she planned. Earlier this week, Bell assigned her daughter an opinion essay, and her daughter chose a topic that's very reflective of the current mood in many households around the world right now.
We assume the first-grader is Bell's 7-year-old daughter Lincoln Shepard (her younger daughter, Delta, is 5). Lincoln crafted an opinion-and-evidence grid with, "How my mom reacts to me" as the main opinion she wished to explore in her essay. Some of the evidence she planned to provide included, "doesn't believe in me," "no patience," and "Bad reactions." "Bad" is underlined twice.
"Trying to get my 1st grader to write her first opinion essay, and was quite impressed with the topic she chose as she presented her grid with opinion and evidence," Bell captioned her April 27th Instagram post.
"Touché my young lass. Touché. (The bottom says "Stern Voice")," Bell wrote.
https://www.instagram.com/p/B_gEkOkJmn9
Some of Bell's followers couldn't help but note how relatable this chart is. One fellow mom commented, "Yaassss, mom of a first grader. Lol, thanks for keeping it real ? hugs to you during these challenging times." Another wrote, "Feeling very seen! My 1st grader shares those opinions. It's been a loooong seven weeks (& counting)."
"First grade teacher here, she gets an A," one Instagram user posted. Honestly, we agree.
Just remember, moms and dads during quarantine, we're all in this together. We really hope Bell posts the full essay after she grades it.
As information about the coronavirus pandemic rapidly changes, HelloGiggles is committed to providing accurate and helpful coverage to our readers. As such, some of the information in this story may have changed after publication. For the latest on COVID-19, we encourage you to use online resources from CDC, WHO, and local public health departments, and visit our coronavirus hub.