Kristen Bell shared a charming #tbt photo from her days as a pregnant lady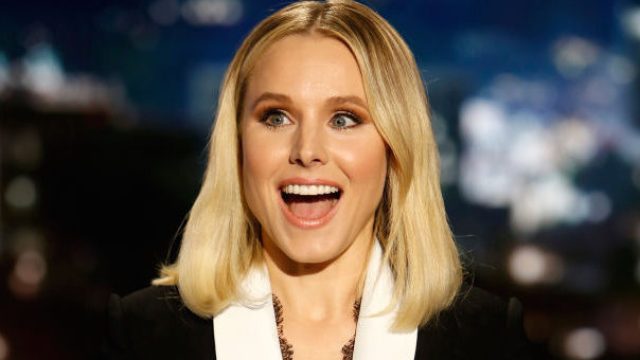 Well, here's something you probably already know — Kristen Bell and Dax Shepard are still the absolute cutest celebrity family ever. They're the parents of two little ladies — four-year-old Lincoln and two-year-old Delta — and it's clear that they're succeeding at the parenting thing.
Bell shared the sweetest throwback picture on Instagram from her first pregnancy, and it's so loving and perfect and just so them.
"#tbt to 4 years ago- the calm before the storm," Bell captioned the photo. "Practicing our ride to the hospital- in our new 'family car' (a 1995 wood paneled Buick Roadmaster station wagon). Patiently waiting out month 9. Thank you, @mrchrislowell for this picture."
Bell and Shepard don't really post pictures of their kids on social media, which we totally respect, but they do give us tiny glimpses of what they're like as parents.
Spoiler alert: They're adorable as parents.
Like this picture Bell posted of one of her daughters handing her a flower. She even used the #momlife hashtag, because motherhood is an incredibly relatable thing and deserves a hashtag.
"A tiny hand just came up and handed me this," she wrote. "What a perfect Saturday. #kids #momlife"
Then there's this pic of Shepard swimming in the ocean with one of his girls.
Bell wrote, "First daddy daughter swim in Lake Michigan-a right of passage for any Mitten baby ✋"
And this studly photo of Shepard in full dad mode.
"The #dadbeast is In full effect today," Bell captioned the pic. "#threeseater...and a basket. What a stud. @daxshepard"
So while we don't get to see actual pictures of their girls, we at least get to see Kristen and Dax being badass parents. And hey, we'll take what we can get.