This is what Kristen Bell would say to the #MarchForOurLives teens, and yes, we're just as inspired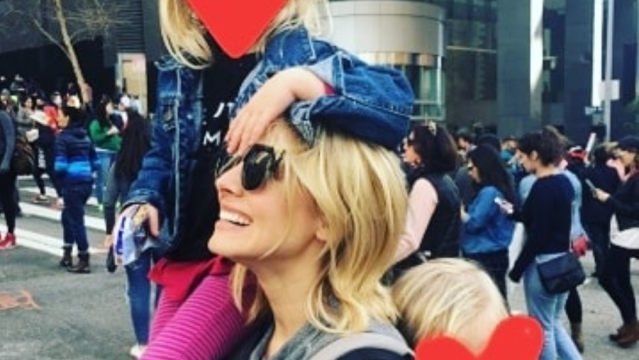 So many students and allies showed up for the #MarchForOurLives protests that the crowd sizes broke records. Now, Kristen Bell is using her platform to encourage those speaking out to continue doing just that.
HelloGiggles sat in with Kristen Bell Thursday, April 5th at a round table discussion for "This Bar Saves Lives," and the Good Place actress had invaluable advice for the children, teens, and young adults who feel passionate about a specific cause like gun control.
"To those kids who have a fire under their ass, I would say don't ever let anyone discourage you about what speaks to your heart," the actress said. "Everyone's heart is different. If you are tugged on your heart strings by animals causes, do it. If you're tugged by zero to 12-year-old baby needs, then get involved with Baby2Baby. If you are thinking about the food on your table, get involved with No Kid Hungry."
Bell also discouraged students who want to help from feeling like they need to start their own initiative in order to effect change.
"Somebody is doing what you want to do already," she continued. "Don't start an organization. That's the first thing that I'd say. You're gonna waste your time and you're gonna waste infrastructure."
The actress and activist opened up about how she teaches her two daughters (with husband Dax Shepard) to be charitable and to recognize their own privilege: "I talk to my kids at their brain level, which is like zero, about toys," she joked. "When we get a toy into the house, they are responsible for picking a toy to go out of the house."
https://www.instagram.com/p/BeLrOGXFknG
She is open with her daughters, Delta and Lincoln, about why they need to give away their toys to those less fortunate.
"Some kids don't have any toys," she remembered explaining to her kids. "That sucks and their parents work really hard and they still can't afford toys. Look we don't play with this anymore. Let's give it to a kid." In response, her daughter "out of the blue came out of her bedroom and was like, 'Mom, I want to give this to a kid who doesn't have toys.'"
It sounds like Bell is raising her daughters to be strong, empathetic, activist women, just like their mom. Petition to have Kristen Bell adopt all of us?