Krispy Kreme wants you to vote for its next donut flavor, and here are your options
As if Krispy Kreme's glazed donut wasn't already perfect enough, the brand has a new glaze flavor lineup in the works. Meaning four new flavors – and Krispy Kreme wants you to choose which one will get made.
Starting today, January 16th, through Monday, January 22nd, fans can vote for the next glazed donut flavor. Krispy Kreme will actually produce the flavor that gets the most votes, and it will be available in participating locations in the United States this spring.
The four potential new Krispy Kreme glaze flavors are blueberry, lemon, caramel, and maple. Nom.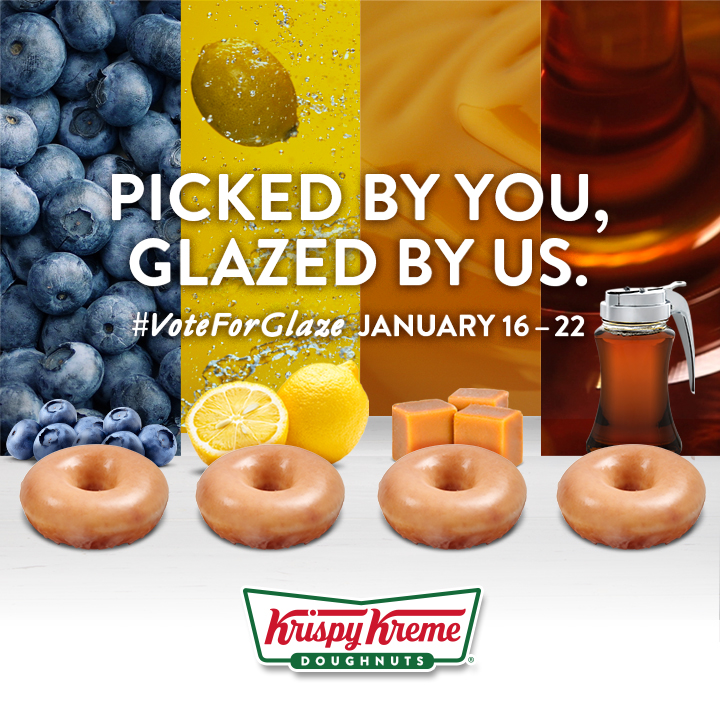 "In 2017, our fans responded with tremendous enthusiasm regarding how we innovated around our Original Glazed Doughnut. We turned it green for St. Patrick's Day. We eclipsed it with mouth-watering chocolate glaze for the total solar eclipse. And we sweetened it with warm gingerbread molasses to create a new holiday glazed favorite," said Jackie Woodward, Chief Marketing Officer of Krispy Kreme Doughnuts, in a press release shared with HelloGiggles.
"To begin this year, we're tapping that enthusiasm and mobilizing that engagement to make our fans full-fledged innovation partners," she continued. "It's an unprecedented step for Krispy Kreme as a brand and enhances what is already an awesome doughnut experience for our customers."
This is not the only time Krispy Kreme has tinkered with its classic glazed donut to please its loyal customers. Over the summer, Krispy Kreme offered a peanut butter and chocolate Reese's donut. In fall 2016, there was a pumpkin spice donut. And last spring, Krispy Kreme teamed up with Ghirardelli to offer an insanely delectable chocolate donut.
Fans can visit www.voteforglaze.com to cast their votes. Everyone is allowed to place one vote a day – so you should probably set your daily alarm now. The winner will be announced January 25th. In the meantime, we'll be mentally taste-testing all of them.