We tried Krispy Kreme's pumpkin spice donuts, and we're here to tell you they're DELICIOUS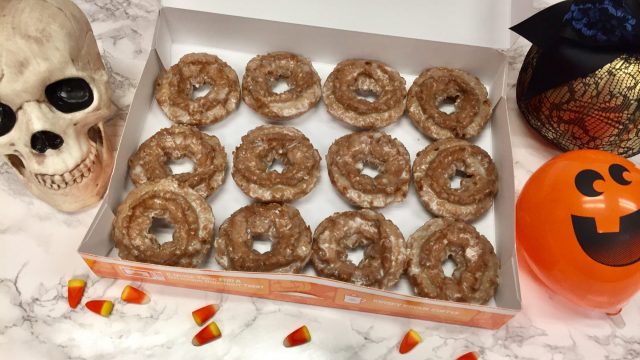 Happy National Pumpkin day to everyone out there who LIVES for pumpkin spice things…even if you're name isn't David S. Pumpkin.
To celebrate this treasured — and very Halloween — holiday, just about everything today has received a hefty dose of that PS magic, and that includes DONUTS. Today, and today only, Krispy Kreme is baking up pumpkin spice donuts, and instead of just getting a hot n' fresh glazed donut, you should probably treat yourself to a hot n' fresh pumpkin spice glazed donut.
And sure, we might be living in a world full of too many (and sometimes, too weird) pumpkin spice things, but when it comes to PS donuts, SIGN US UP. The HelloGiggles office decided that we needed to get our hands on these donuts, and after patiently waiting for Postmates to deliver them (yes, we got donuts delivered to the office, don't judge us), it was time to taste them ourselves.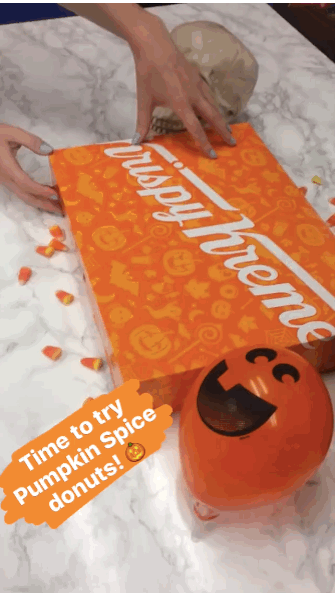 Do they live up to the pumpkin spice donut hype? Simple answer: YES.
"These are the best fall donuts I have EVER had. Why are they here for only one day?! WHY, KRISPY KREME?! WHY WOULD YOU DO US LIKE THIS?" Anna, Associate Editor. "Okay, so it's obviously delicious...what donut isn't? BUT, I really don't taste much pumpkin. Definitely lots of cinnamon, but it reminds me of a coffee cake donut more than a pumpkin donut." Adrian, Web Developer. "Here are my feelings: They don't taste like a PSL they taste like actual spices you would use in a pie with a dash of pumpkiney sweetness from the glaze. Without glaze it would be like a really good cake, the glaze makes it FALLTASTIC!" Blaire, Executive Video Producer.  "The only problem with these donuts is that they are too delicious which made me eat them too fast and now my heart is racing - can't tell if it's the sugar rush or if I'm in love." Christina, Video Producer. "I NEED MORE. But trying to contain myself. It's like a pumpkin spice bundt cake perfectly crafted into a glazed donut." Danelle, Social Media Producer. "They don't really taste like pumpkin spice but they are really good! Would definitely eat them again." Eva, Social Media Manager. "This donut is DELICIOUS. It's pumpkin spice but its flavor is super subtle, so it doesn't overwhelm you. It's probably my favorite autumnal snack of the season. #win" Gina, Editorial Director.  "The pumpkin spice flavor had the perfect balance of sweetness for a donut. Sometimes ~special flavor~ things can be too sweet, aka trying TOO HARD, but Krispy Kreme got it right with this one. I really loved it and I'm not a big sweets person!" Marie, Beauty Editor.  "😍🎃🍩." Rachel, Senior Writer.  "Pumpkin spice donut = comfort, fall, holidays, can't just have one bite, perfect to pair with a cup of coffee/tea, homesick, want to wear a cozy sweater and jump in leaves, want to curl up in bed and watch a holiday movie." Shaina, Account Manager. [Editorial note: Shanna came over to tell me that she doesn't care for pumpkin space stuff, and I was like "how dare you."] "OMG ok so as I mentioned, I am into everything fall/autumnal EXCEPT pumpkin spice anything. Ive tried the lattes, the seasonal favorites at Trader Joes, etc. and end up giving them away cause I'm just not into it. HOWEVER, this donut is something else. I don't know if its cause theres an overwhelming like brown sugar and glaze situation but it's delicious and is my first successful foray into the PS world. Thank you for this experience." Shanna, Associate Marketing Manager.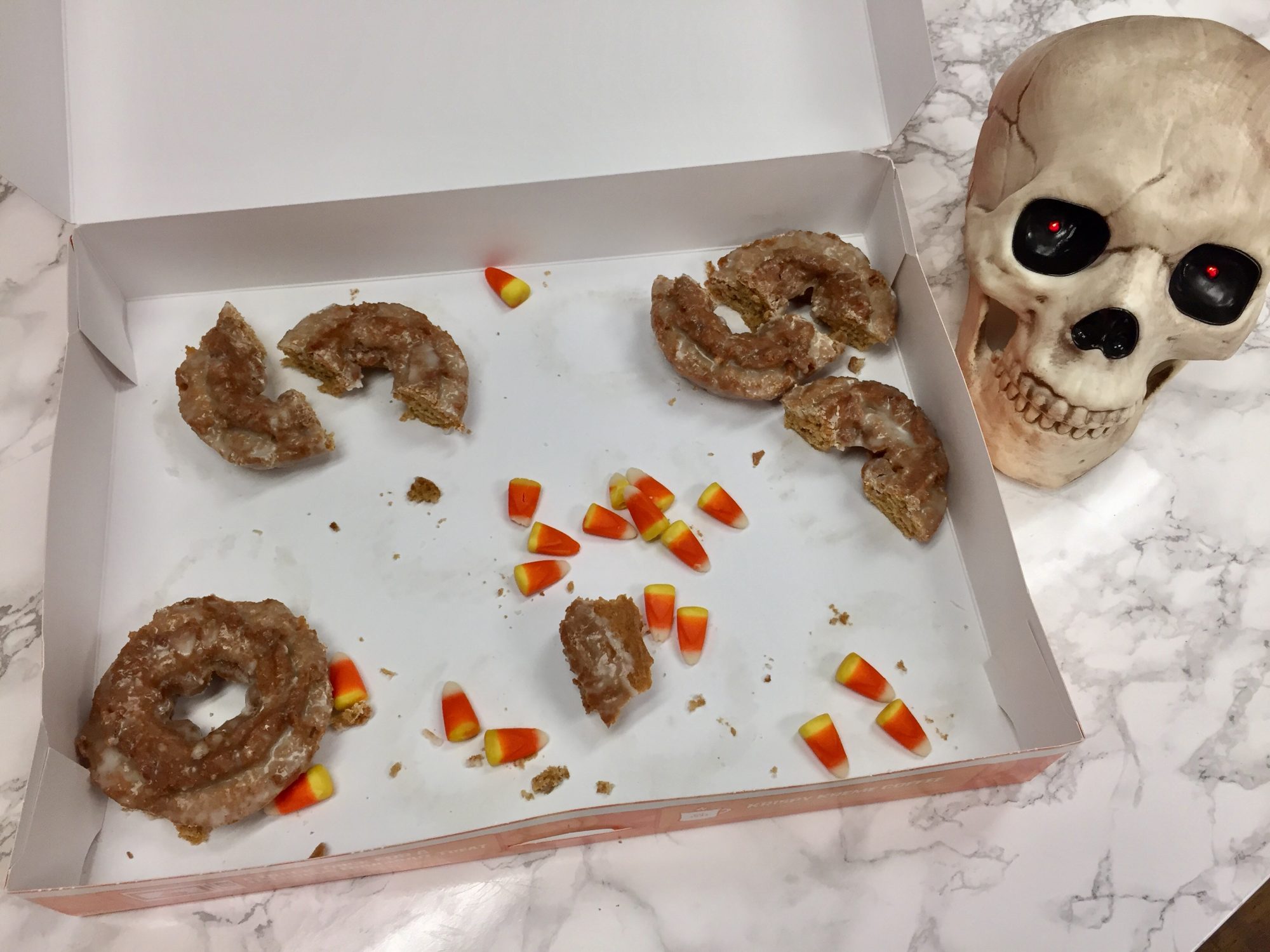 In conclusion:
If we're being honest, this is literally one of the best donuts we've ever had, pumpkin spice or not. It is so soft, and so packed with flavor, we want to eat this donut every single day. Who do we talk to about making this donut part of the Krispy Kreme menu EVERY DAY?