Krispy Kreme and Ghirardelli have teamed up to create the chocolate doughnut of dreams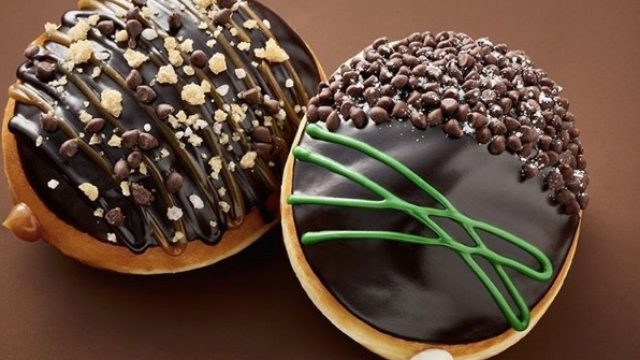 Anything food-related usually gets us going, but we just heard from Delish that Krispy Kreme's new doughnuts are chocolatey AF — and now it's all we can think about. Seriously! The new doughnut is a collaboration with Ghirardelli (as in one of the biggest and best chocolate manufacturers in the biz), and come April 3rd (that's TODAY!) there are not one, but TWO limited edition doughnut flavors to make your mouth water uncontrollably.
Sea salt chocolate caramel (YUM) and mint-chocolate filled with white mint-Kreme (YUM!).
Both are inspired by famous Ghirardelli's Chocolate Squares — the sea salt and chocolate mint flavors. Ummmm we CANNOT WAIT to try these epic doughnuts!
Need more deets?! Warning: You're about to experience an intense craving!
"[Chocolate sea salt doughnut is] filled with salted caramel, dipped in chocolate icing, and then drizzled with both the chocolate and caramel icings," Delish notes. "The finishing touch is a showering of amber sugar, salt sprinkle, and mini chocolate chips."
"Then there's the mint chocolate donut that's filled with White Mint Kreme. It was inspired by Ghirardelli Chocolate Mint Squares, so it's also dipped in chocolate icing, decorated with green colored icing, and topped with both mini chocolate chips and powdered sugar."
OMG. The great news is that we can literally drive to a Krispy Kreme right now and eat these delights! Aaaaaand that just made our Monday complete.
via giphyWhat time is it? Oh, it's DOUGHNUT TIME.