You can get a dozen Krispy Kreme donuts for $1 this week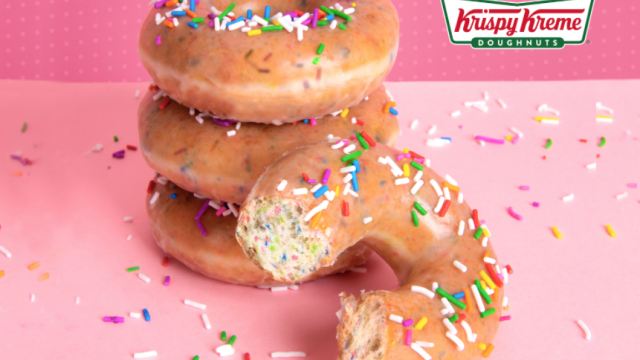 If you're a big fan of donuts (and TBH, so many of us are), you're going to love this news. Later this week, Krispy Kreme is offering a deep discount in honor of its birthday, and if you want to grab some glazed treats for cheap, here are all the details.
According to a press release from the company, on Friday, July 27th, in honor of its 81st birthday, Krispy Kreme is offering a box of 12 Original Glazed donuts for just $1 when you buy a dozen at regular price at participating shops all over the United States and Canada. That's 24 donuts at a ridiculously low price, people. Has there ever been a better excuse for a donut party than this?
All you have to do is visit your local Krispy Kreme on the 27th to cash in on the deal, and if that's not your thing, there are other deals you can take advantage of as well.
Krispy Kreme also released a Glazed Confetti donut to celebrate this milestone, and it sounds pretty festive. The release describes it as "vanilla birthday cake-inspired dough with confetti sprinkles throughout, glazed in classic Original Glaze, and lightly topped with colorful sprinkles." Uh, YUM? The flavor is available starting Friday through Thursday, August 2nd, so you have just under a week to get your fix.
"One of our favorite times during the year is when we get to celebrate our birthday with our fans," Krispy Kreme CEO Mike Tattersfield said. "In addition to offering a delicious dollar deal on an extra dozen of our Original Glazed donuts, we've 'birthday-ed' up our awesome Original Glazed donut, creating a whole new experience."
Anytime anyone wants to "birthday-up" a donut, we're down. You win this one, Krispy Kreme. Don't forget to celebrate Krispy Kreme's birthday with your dozen donut deal on Friday. Your snacks for the weekend are covered.