Did Kris Jenner's casual holiday photo just confirm Kylie Jenner and Khloe Kardashian's pregnancies?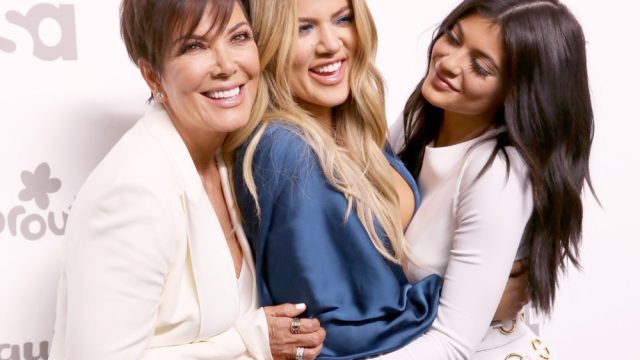 File this under: The Kylie Jenner and Khloe Kardashian pregnancy saga continues. It's very likely that Khloe and Kylie are both pregnant, however, neither woman will confirm or deny the rumors. The only evidence is Khloe's barely-there bump at a recent appearance and Kylie's new affinity for baggy clothes. But there's also this clue, just dropped by the matriarch herself. Kris Jenner posted a holiday-prep photo that featured nine pairs of children's pajamas and claimed they were for "every one of my grandchildren." Kris has nine grandchildren? Let's do the math. Mason, Penelope, Reign, North, Saint, Dream….that makes six? But what about Kim, Khloe, and Kylie's unborn babies? Add the three unborn babies into the mix and THAT MAKES NINE GRANDCHILDREN!!!
"Thank you so much #burtsbeesbaby @burtsbeesbaby #bbbfamjams for the most amazing collection of family jammies ever and i am obsessed with the plaid !!!!!," Kris captioned the photo. "Can't wait to cuddle up with the kids #holidayseason thank you for a collection for every one of my grandchildren ❤️ #blessed #grateful."
This is some conspiracy level stuff happening right now.
The comments on Instagram are exploding right now. "Did you see this? 9 PJ sets because Khloe and Kylie ARE pregnant," wrote one fan.
However, some Kardashian fans did point out that Caitlyn Jenner has grandchildren and maybe Kris was referring to those kids? That being said, Kris and Caitlyn are not on great terms and don't speak anymore, so we doubt Kris was referring to Caitlyn's grandkids as her own.
At this point, the Kardashjenners don't even need to confirm their pregnancies, the signs are everywhere. E! News recently reported on Kylie's baby shower, and Khloe supposedly showed off her "tiny baby bump" at Kim's fragrance launch party. Also, nobody in the family will say that they aren't pregnant, so, we're reading between the lines.