Kris Jenner opened up about Kylie Jenner's private pregnancy and how she's adjusting to motherhood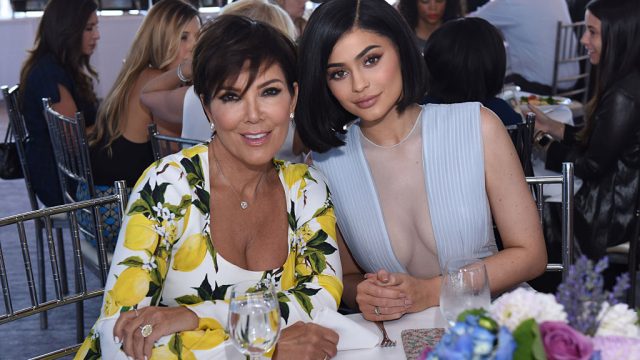 Since Kylie Jenner announced the birth of her daughter on February 4th, 2018 (the baby was born on February 1st), her family has stayed relatively tight-lipped about the new arrival. Khloé Kardashian shared a bump selfie and Kim Kardashian wrote a short but sweet note to Kylie, but that's about it. Now Kris Jenner, who already posted a short tribute to her youngest daughter on Instagram, has finally spoken out about Kylie's foray into motherhood.
Jenner attended Rachel Zoe's fashion presentation in Los Angeles last night and, of course, every reporter asked her about Kylie's announcement. "She's amazing. An amazing mom," Kris told People, and added that when she saw Kylie's 11-minute pregnancy video, "I was bawling! I was crying so hard, especially at the end."
"I'm just really proud of her. It's incredible. I feel very, very lucky," Kris also said, speaking to Entertainment Tonight. She later added that all these grandbabies are "overwhelming."
"It's a lot of little people. I love it though," she said. "I love every second of it. It's such a blessing."
Kris explained to E! News why Kylie was so secretive about her pregnancy: "Kylie did it her way, which I thought was really beautiful. She just really wanted to take the time for her baby and herself. She's doing great." However, when the outlet pressed Kris to comment on the rumors that Kylie is naming her daughter Butterfly, Kris only said, "I'm not talking names tonight! I'll let Kylie tell you about what her [daughter's] name is."
We don't know what we expected from Kris: Tears of joy on the red carpet? Who knows? In true Kardashian fashion, Kris kept her commentary close to the vest. Maybe she's saving the best Kylie details for the season finale of Keeping Up with the Kardashians, a time-honored family tradition.
To recap: Soon after Kylie announced the birth of her daughter, Kris reposted Kylie's video and captioned it: "God is SO good!! I am so excited and thrilled to welcome another precious baby girl to our beautiful, ever growing family. We are blessed beyond belief!"
Not every 20-year-old mother is greeted with this much joy and gratitude from their own mom, so it's lovely to see this group of women rally around their youngest family member as she enters motherhood for the first time.