Kris Jenner shared an adorable flashback Friday photo of little Kim, Kourtney, Khloe, and Rob all dressed alike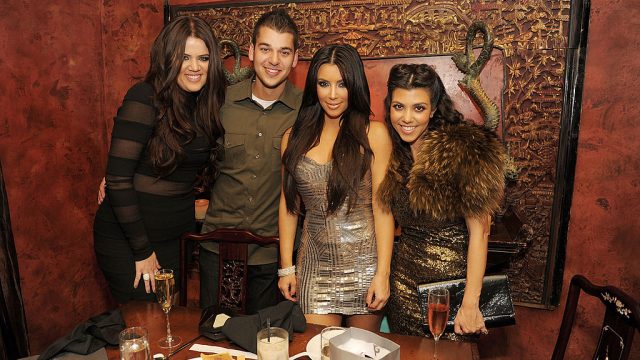 Real talk: Our parents all made us take those embarrassing family photos. You know the ones — matching outfits, ridiculous bows in our hair, and awkward smiles all around. And it turns out, we aren't the only ones. Celebrities had to do it, too!
In a #FlashbackFriday post, Kris Jenner shared a picture of her four oldest kids cheesing in a family photo, and we can't stop looking at it.
"These little lovebugs," wrote Kris, calling out their #matchingpolkadots in an accompanying hashtag.
We can't get enough of the girls' puffy sleeves, big half-up/half-down hairstyles, and matching bows. It's just oh-so-'90s. Not to be outdone, Rob is looking quite dapper in a cardigan sweater. Aww, the little Kardashians were just so cute.
This isn't the only #FBF that Kris has posted recently. She also shared a pic of her eldest four in similarly matching holiday outfits, made of black velvet. Because of course.
"My little Christmas cuties," Kris wrote of Kourtney, Kim, Khloe, and baby Rob.
She also shared this one of Kim and Kourtney wearing adorable red plaid frocks.
In the caption, she writes #alwaysmatching. We'd say Kim inherited that penchant for matching from her mom, judging by all the mother-daughter looks she rocks with North West!