Mariah Carey's makeup artist gives us tips on how to look flawless every time we beat our faces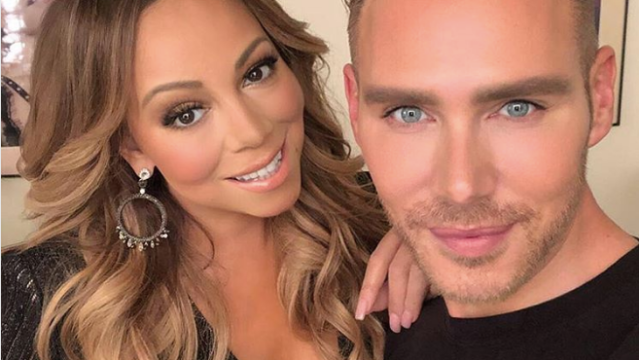 When it comes to celebrity beauty, Kristofer Buckle is a legend. Over his career,Buckle has glammed up an impressive number of our favorite stars including Christina Aguilera, Blake Lively, Jennifer Lopez, Jessica Chastain, Katy Perry, and Blake Lively, among others. He also has his own cosmetics line, which features must-have products like the new Cashmere Slip lipstick in Disco, the Power Lock Setting Spray, and the Light Enhancing Duo—a highlighter palette he had made originally for Christina Aguilera during her film Burlesque. NBD.
While giving me an Erika Jayne-style makeover, Buckle generously shared many of his makeup tips, including the biggest mistakes people make while contouring, the best way to apply concealer, and why we shouldn't forget about blush.
1Using concealer on eyelids
If you don't have eye primer, don't fret. Concealer works just as well, if not better, to create a canvas. "Something that people don't think about is putting concealer on their eyelid," says Buckle. "There's a lot of pink, blue, and gray tones on an eyelid, so if you conceal that, all of your eyeshadows will show truer. It blanks out your eyelid so you have the perfect surface for your eyeshadows."
2Hiding sun damage
Buckle wants us to stay out of the sun, but if we must, use proper sunscreen. For spots caused by sun damage, he tells us what kind of concealer is best. "When you want to hide any hyperpigmentation that the sun has done to your skin, use a peachier concealer," says Buckle. "That will work better than trying to use a shade that's not going to neutralize the color that you're covering."
3The biggest contour mistakes
Contouring can be tricky for the makeup novice, so we asked Buckle what he thinks are the biggest mistakes people make. "They have to know where they're gonna be. If you're gonna be in daylight, you wanna make sure that you're subtle about it," he says. The second mistake has to do with the color. "You wanna make sure that it's not too warm, otherwise it ends up being like mustard face. You don't wanna look like you got into a batch of bad mustard." We absolutely do not.
4Press, don't swipe
Don't be afraid to press the concealer in with your fingers. "I always press when I'm setting concealer because I want it to really have full contact with your skin," explains Buckle. "I don't swipe my fingers back and forth under your eye. It's better to just tap so it doesn't wipe any makeup off."
5Setting makeup is not overrated
Make sure to use a good setting powder both on your eyelids and face to avoid creasing. "The warmth of your skin starts making your makeup collect in the hinges of your face, so by removing all that excess moisture out of the makeup or the oils, it locks into place," says Buckle. "Also, if you don't set your eyeshadow, like your eyelid, your eyeshadow is gonna go on blotchy. It's not gonna ever blend properly because you're using a powdered pigmented product on top of dampness."
6Don't be heavy handed with highlighter
When it comes to highlighter, a little goes a long way. "A small amount works, you just have to buff it so it appears flat to the skin and then becomes more reflective,"says Buckle. "If you keep packing it on, you end up looking like the tin man from the Wizard of Oz. Buffing it is really what it's all about, not reapplying."
7Don't forget the blush
Bronzer peeps, listen up: Buckle wants us to use more blush. "It's one of those things that people under-use, but it's the most simple way to add life to your face," Buckle explains. "It makes your eyes look brighter; it makes your teeth look whiter. I encourage people, if they're not gonna do anything else, do some mascara, some lip gloss, and some blush."