Kourtney Kardashian clapped back at a troll who criticized her son's hair
Proud mama Kourtney Kardashian isn't about to let her followers troll her kids. On October 28th, Kardashian uploaded a photoset to Instagram showing off her weekend family adventure to Santa Ynez, California. Two of her three children, Penelope and Reign, starred in the photos. Her son Reign happens to have long hair. And when a troll called out Kardashian for not cutting Reign's hair, Kardashian had no choice but to clap back.
"She really need to cut his hair," an Instagram user commented on the series of photos, which Kardashian captioned "A weekend away." Ugh.
Her reply received more than 4,000 likes, because everyone agrees that when you go after someone's kid, you kind of deserve to be called out.
Mic dropped. In our opinion, this Instagram user is simply jealous of Reign's magical locks. Who wouldn't want gorgeous, long hair like that?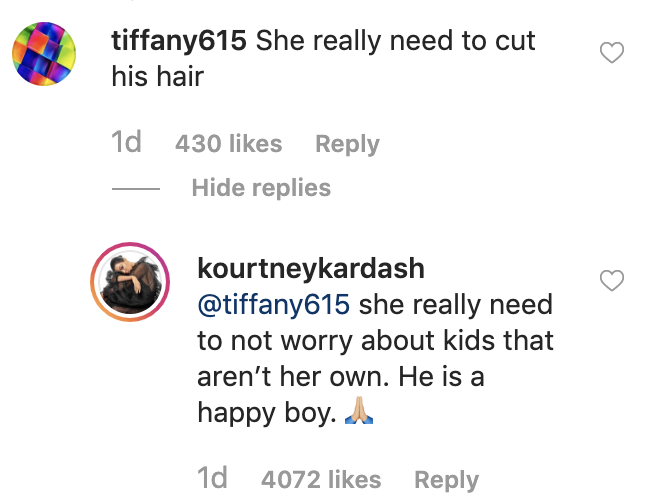 Because the Kardashian sisters are such public figures, they are almost constantly being mommy-shamed for one thing or another. At the beginning of October, Kourtney was criticized by an Instagram user who questioned her for bringing her kids along on so many vacations.
"Don't your kids go to school? Their education is so important more than these trips," the critic commented. Kardashian responded, "It was spring break, but traveling can be educational too."
Of course, there is no need for Kardashian to explain herself and her parenting to those who don't know her or see her raising her kids behind the scenes of Keeping Up with the Kardashians. But, alas, sometimes you just feel the need to call out a troll, and we honestly can't blame Kardashian for doing so.