Kourtney Kardashian just shut down pregnancy rumors like a #BOSS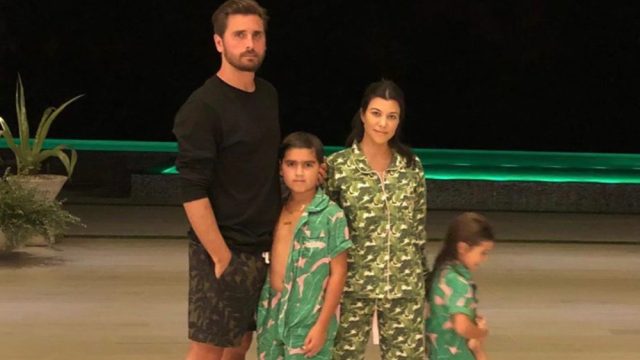 Another day, another Kardashian-related pregnancy rumor. And the most recent whispers entail none other than eldest sibling Kourtney Kardashian. It all started when 23-year-old Kendall Jenner posted a series of photos and videos to her Instagram feed on November 22nd. The pictures entailed shots and scenes from what looked like a perfect family Thanksgiving, and Kendall captioned the post with a simple, "so thankful wow."
However, eagle-eyed followers were quick to note that, in the first video, 39-year-old Kourtney stands beside ex Scott Disick with her hand placed on her stomach…prompting a number of fans to speculate that she might be pregnant.
"Is Kourt pregnant?" a commenter asked.
And Kourtney had the perfect reply.
"No, but how good does my arm look in that last photo?"
Brava, Kourtney. Brava.
Random pregnancy rumors aside, it looks as though Kourtney had a pretty awesome Thanksgiving. She posted a photo with herself, her three children, and Disick, writing, "I woke up this morning in bed with my children, in the same house as my sisters (minus @khloekardashian ??i miss you), my brothers, the father of my kids, my mommy, my grandma, my nieces and nephew. I feel beyond grateful. Happy Thanksgiving!"
Happy Thanksgiving, indeed!