Kourtney Kardashian might have known early that rumors of Kylie Jenner's pregnancy would break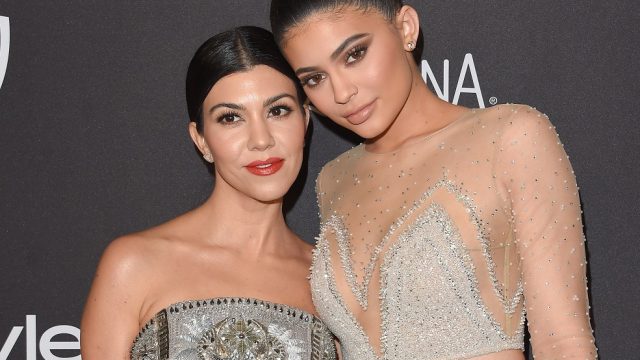 The internet is buzzing with rumors of Kylie Jenner's pregnancy — and while the star has yet to confirm things herself, there are a lot of hints that it may be true. One thing's for sure — fans are looking at the Kardashian/Jenner clan pretty closely these days to try and figure it out. Based on this recent Instagram post from Kourtney Kardashian, people are guessing that she knew about the rumor early and is offering some support.
First thing's first — obviously Jenner's news is her own. Even though she's always been in the spotlight, it doesn't mean that she necessarily has to address the possible pregnancy, or set things straight.
This is her body and her life, and quite frankly, she owes us nothing.
But since the rumor has unraveled into quite the mystery, fans can't help but be curious. After all, many have literally watched her grow up before their very eyes. Hence, the added interest in Kardashian's photo.
The photo shows a big family hug between Kourtney, her sister Khloé, and Jenner. For a caption, she used an unknown quote — and it really seems like she had something big on her mind.
"In life, you realize there is a role for everyone you meet. Some will test you, some will use you, some will love you, and some will teach you. But the ones who are truly important are the ones who bring out the best in you. They are the rare and amazing people who remind you why it's worth it," the caption states.
While sites like TMZ are reporting that Jenner's around five months pregnant with a girl, family members like Kim Kardashian admitted that some of the stories floating around are bogus.
So it's still a bit puzzling as to whether or not the Kardashians knew something was going to break. Regardless of whether or not Jenner is expecting, we wish her the best.