Kylie Jenner was missing from ANOTHER family Christmas photo, so Kourtney Kardashian said what we're all thinking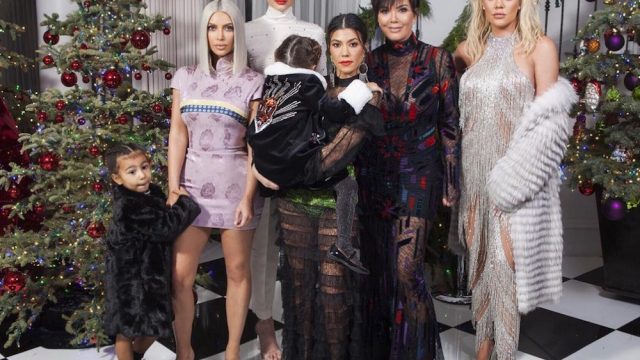 It's safe to say that our holiday cards could never compare to the Kardashian/Jenner Christmas cards, especially since the whole ~krew~ goes full glam each year. And 2017 wasn't an exception for everyone's favorite TV family. However, some key members of the fam (hi, Kylie) were shockingly missing from the official Kardashian/Jenner family Christmas photo.
But despite Kylie's noticeable absence from the original Christmas photo and ANOTHER one that Kourtney Kardashian posted on Instagram, it didn't stop Kourt from making a joke of the whole thing. The reality star captioned her Instagram photo: "When you can't find the rest of the family for the photo…"
Even Khloé got in on the fun, as she commented on Kourtney's Instagram post stating that she was so hungry and slightly pissed that everyone was eating while she was still waiting for the picture to be done. Seriously, could Khloé be even more relatable?
But while Kylie was definitely part of the infamous Kardashian Christmas Eve party, Instagram commenters noticed her lack of a baby bump in the picture of her and Khloé together, allowing some to speculate the photo may have been taken in the early days of her rumored pregnancy.
While 2017 was a pretty big year for the family, we're sure 2018 is going to be a bigger year for the Kardashians, especially since Khloé is pregnant with her first baby and Kim is expecting her third child via surrogate. As for Kylie, nothing has been confirmed, although, the rumors about her pregnancy don't seem to be slowing down.
Seriously KUWTK season 15 can't come soon enough!