What does it mean when alleged abusers like Kobe Bryant and Gary Oldman win Oscars in the era of Time's Up?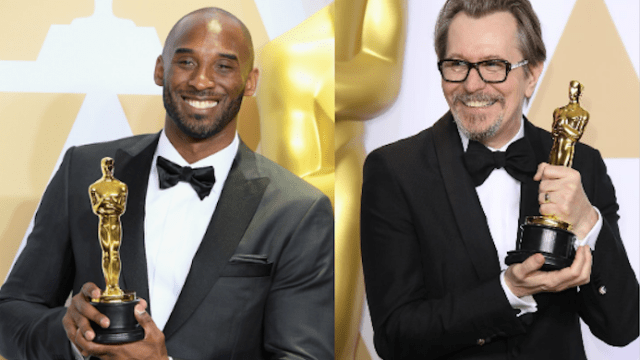 I'm not an avid viewer of awards shows but having seen several of this year's top nominated movies, I was eager to tune in to the 90th Annual Academy Awards. For me, Oscar coverage started early on Sunday with live interviews from the red carpet. But among the glamor of the gowns and the seriousness of the more socially aware questions, one moment gave me pause — when I heard discussion of Kobe Bryant's animated short film being an Oscar nominee.
Though I hadn't been familiar with his now Oscar-winning short Dear Basketball, I do know plenty about Bryant. And what I remember the most are the 2003 rape allegations made against him.
Before I got too upset about his nomination and win, I went to Google to double-check the facts. A quick search and skim over half a dozen articles proved that my memory was sound — 15 years ago, Kobe Bryant was charged with the sexual assault of a 19 year-old woman.
It allegedly happened the day before Bryant had knee surgery. While staying at a hotel prior to the major procedure, the woman — an employee at the hotel — alleged that the basketball star held her down and raped her. However, Bryant argued that the sexual activity that night was consensual. After being the victim of a media smear campaign and receiving threats from the public, the 19-year-old declined to testify against Bryant, and charges were ultimately dropped. Still, though he claimed no fault, Bryant settled the civil case out of court and issued a public apology to the victim.
Despite these actions, Kobe Bryant went on to play basketball for 10 more years. On Sunday night, he became an Oscar winner — and he wasn't the only man with a shady past to win big at the awards show.
Actor Gary Oldman won Best Actor for his role in The Darkest Hour, beating out stars like Daniel Day-Lewis and Denzel Washington and critically acclaimed newcomers Daniel Kaluuya and Timothée Chalamet.
Again, I was angry and confused by the Academy's decision. It seemed to me that, just as those against Bryant had been forgotten, nobody remembered the allegations against Oldman either. Back in 2001, ex-wife Donya Fiorentino filed papers in the L.A. Superior Court accusing Oldman of assault. false
Her allegations read, "As I picked up the phone to call the police, Gary put his hand on my neck and squeezed. I backed away, with the phone receiver in my hand. I tried to dial 911. Gary grabbed the phone receiver from my hand, and hit me in the face with the telephone receiver three or four times. Both of the children were crying."
Despite this scary retelling, no charges were brought against Oldman, and he was later awarded full custody of the pair's two children. While this decision may seem to vindicate him, the actor's own words damn him further.
In an interview back in 2014, the Oscar winner defended the anti-Semitic, racist, and homophobic rants of Mel Gibson and Alec Baldwin. In the profanity-heavy interview — in which Oldman used the N-word and "fag" — he accused Hollywood politics of being hypocritical. Ironically enough, he also requested the interview be edited so he would avoid sounding "like a bigot" (which he totally does).
This isn't the first time men accused of horrific misconduct have been honored by the Academy.
Just last year, Casey Affleck was awarded the Oscar for Best Actor for his role in Manchester by the Sea, despite his many controversies involving sexual assault. Also, industry mogul and all around scumbag Harvey Weinstein was once a heavy influencer in the Academy, having rewritten the rules of Oscar campaigning. Weinstein was ejected only AFTER the huge fallout concerning his sexual assaults.
So what does it mean for the age of #MeToo and Time's Up if — despite the bravery of so many women — alleged abusers like Bryant and Oldman continue to be celebrated? Is it a losing battle? Will men continue to have careers even after so completely violating the lives of others?
https://twitter.com/udfredirect/status/970522371424751616
Not as long as we continue to call out this hypocrisy. Abusers are counting on our movement to die down. They hope that the public's call for accountability of sexual predators is just the social trend of the week. But we're so much more than that. We're women who have personally experienced assault and aggression, allies who refuse to turn a blind eye, and activists who know that, together, we are stronger than what oppresses us. And we won't forget the individual stories of the abused women who come forward.
The women who make up this cause knew that the movement wouldn't be easy. What we need — what we're working so hard toward — is a complete transformation of how society treats women. But that uncompromisable goal will take time. false
As long as the Time's Up and #MeToo movements continue to preserve the memories of victims and encourage women to find their voice, we're headed in the right direction.