7 things to know about Caitlin McHugh, John Stamos's wife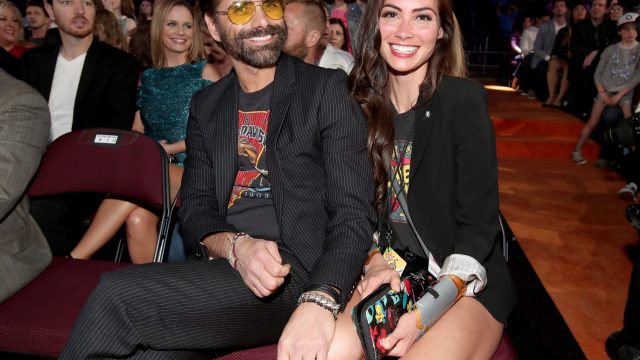 Gather together the members of your full house and tell them the good news. Uncle Jessie is a dad! Actor John Stamos and wife Caitlin McHugh announced the birth of their son, Billy, in an April 16th Instagram post. Stamos captioned his message, "From now on, the best part of me will always be my wife and my son. Welcome Billy Stamos (named after my father). #NotJustanUncleAnymore#Overjoyed."
SO MANY CONGRATS, GUYS!
For those who may have missed it,  Stamos announced his engagement to girlfriend Caitlin McHugh via Instagram back in October 2017 after two years of dating, and they quietly wed in February of this year. And now, they're officially parents!
However, some may currently be wondering: Who is Caitlin McHugh, the lady who stole Stamos' heart? And it makes sense, because she's now forever and always a part of our Full/Fuller House family.
Here's what we know about Caitlin McHugh.
1She's a Disney whizz.
McHugh can be classified as a Disney connoisseur. She knows fun facts, loves the characters and the rides, and has maybe cosplayed as every single Disney character there is.
Yeah — even the Killer Duckie from Nightmare Before Christmas.
2She's written her own short film.
Ingenu-ish, starring McHugh and Josh Peck, is about a young actress who tries to make it in Hollywood without having any connection to fame. Her film was accepted to the Portland Comedy Film Festival, where it was nominated for Best Director, Best Supporting Actor, and Best Actress. It then went on to show at the LA Independent Film Fest and Toronto Shorts International Film Festival.
3She has a great singing voice and can play the ukulele!
Bravo! Encore!
4Okay, but really guys — she LOVES Disney.
We seriously think she's about to take up residence in Cinderella's castle.
5She loves a good DIY project.
McHugh has got a hammer, and she's not afraid to use it.
6She has to-die-for hair.
In fact, McHugh is actually a hair model.
https://www.instagram.com/p/BQT8CfuF0f1
Just look at those luscious locks. We're so jealous.
7She's not Rebecca Donaldson-Katsopolis.
But you know what? That's totally okay with us.
Congratulations to Stamos and McHugh (and welcome baby Billy!). We're sending you all the love during this special time.