You can finally snag Kim Kardashian's makeup collection with Mario Dedivanovic today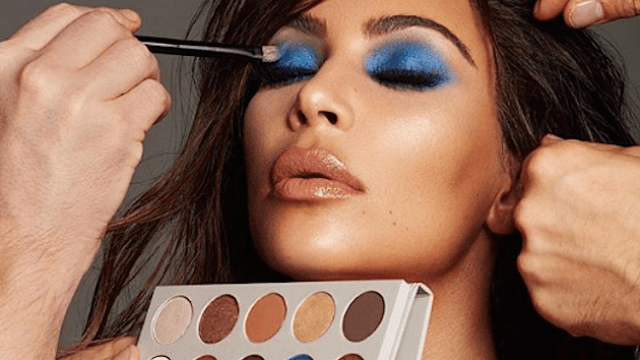 Buckle up, KKW Beauty fans, because the highly-anticipated collaboration with Kim Kardashian West's makeup artist, Mario Dedivanovic, has finally launched. And it is really good, beauty lovers — these friends seriously know what they are doing.
Mario has grown extremely close to Kim over their last decade of working together. He has a hand in developing her unique style and aesthetic, and we certainly wouldn't have seen and embraced the contour craze if it weren't for him. His contributions to the world of makeup and beauty have already been countless, and now we can add this latest collection to the fray. It makes perfect sense that this collaboration debuts on the exact date that Kim Kardashian and Mario Dedivanovic first met 10 years ago.
Their KKW Beauty collaboration features four products, all beautifully curated to create a stunning look. You can see both Mario and Kim's attention to detail on full display, with sumptuous shades and pitch perfect formulas. You'll be able to re-create all of your favorite looks that Kim rocks with these beauties, all you need to do is take a quick scroll through her social media and you'll have inspiration at the ready.
https://www.instagram.com/p/BhMP2-DAbHq
Ever since we got a peek at what was headed our way, we knew that these would be must-have products.
https://www.instagram.com/p/BgzWGdggMfj
Let's take a look at the items in the KKW Beauty x Mario Dedivanovic collection, available today, April 5th at 12 p.m. PST.
1Eyeshadow Palette, $45
https://www.instagram.com/p/Bg4NEikgM_O
Featuring 10 stunning shades, this palette is perfect for your day to night looks, from neutral to glam. While the majority of these shimmering shades are in neutral tones, that fierce pop of blue brings a whole new life to the palette.
2Creme Lipstick, $20
https://www.instagram.com/p/Bg_7Xm0ADOj
This nude lipstick has a lovely, creamy sheen.
High Shine Lip Glosses, $18
https://www.instagram.com/p/BhC3m4BA1tb
Pick from two stunning neutral shades, a peach nude and a beige nude.
What do you think, are you as smitten as we are?
https://www.instagram.com/p/BhCkRWSAH71
Head on over to KKW Beauty and pick up these gorgeous new additions. You'll be able to spice up your looks no matter what the occasion with these lovely new products.