K.J. Apa is stepping in for "The Hate U Give" after Kian Lawley was fired for making racist comments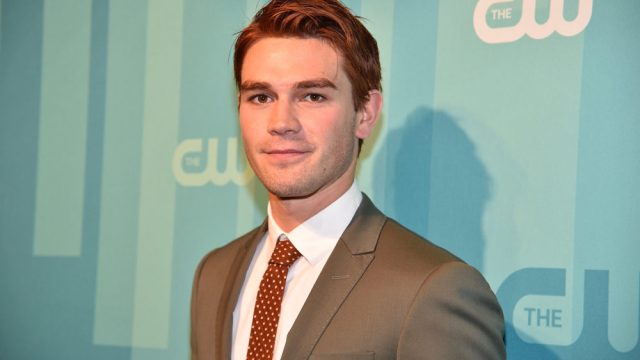 Attention Hollywood: It's official. If you behaved badly, you will be replaced. Nearly two months after news broke that Fox was dropping YouTube star Kian Lawley from upcoming movie The Hate U Give when videos of Lawley making racist remarks surfaced, we're finding out Riverdale's K.J. Apa is pulling a Christopher Plummer and stepping in.
The Hate U Give tells the story of Starr Carter, a black teen who is inspired to fight for justice after she witnesses a police officer fatally shoot her childhood best friend.
Apa, who you probably know as Archie on the hit CW series, will now play Chris, Starr's (Amanda Stenberg) boyfriend, in the adaptation of Angie Thomas' timely 2017 novel. Lawley was fired in February when a YouTube video that showed him using racial slurs and stereotypes was posted. Deadline announced the news of the recasting.
The welcome K.J. Apa swap — which will require a little more than a week of reshoots — is the latest of several high-profile recastings that have unfolded in recent months.
First there was Christopher Plummer filling in (and earning Golden Globe and Oscar nominations) after the many sexual harassment and assault allegations against Kevin Spacey got him removed from All the Money in the World. Then therewas Ed Westwick, and T.J. Miller, and Danny Masterson (who wasn't technically replaced, but was fired, and Dax Shepard was soon cast). And we're guessing Lawley won't be the last.
In a statement to Variety after his firing, Lawley said he'd "grown and learned" since making the offensive video:
"Words have power and can do damage. I own mine and I am sorry," Lawley said "I respect Fox's decision to recast this role for The Hate U Give as it is an important story, and it would not be appropriate for me to be involved considering the actions of my past. I understand the impact and I have grown and learned since then. From now on I plan to use my voice for positive change."
Author Angie Thomas also spoke out about the incident at the time on Twitter, saying there was "a TON of pain associated" with the experience.
After the recasting was announced, Thomas tweeted and retweeted a few warm welcome messages to K.J. Apa, complete with smiley face and waving hand emojis. And we're right there with her.