K.J. Apa revealed that he actually broke his hand while filming "Riverdale"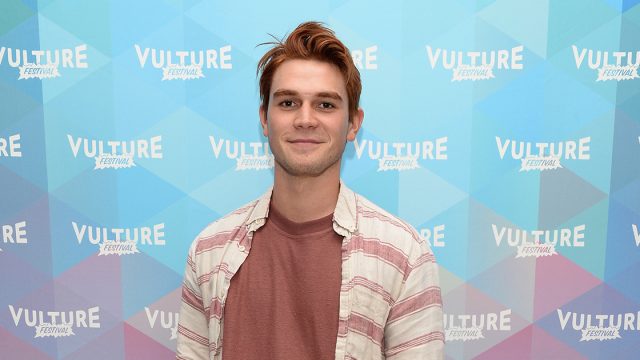 We know that actors often go to great lengths for their roles, whether it's losing weight, gaining muscle, or learning a new skill. However, K.J. Apa (aka Archie) from Riverdale has revealed that he broke his hand while filming the show's Season 1 finale, and we're pretty sure that's taking things to extremes.
Now, if you're anything like us then you'll have become fully obsessed with Riverdale, the new CW show based on the Archie comics. We were pretty gripped by the story of who killed Jason Blossom, and we're practically counting down the days until Season 2 begins (seriously, it can't come fast enough).
One thing that's been bugging us, however, is the question of how K.J. Apa, who plays Archie Andrews in the show, broke his hand. The actor tweeted back in April that he'd caused himself injury while filming the season finale, and has been a bit cagey ever since.
https://twitter.com/udfredirect/status/856638933819547648
In the season finale of Riverdale, we saw the gang attempt to stop Cheryl Blossom from hurting herself  in Sweetwater River. When she falls through the ice, Archie, Betty, Veronica, and Jughead rush to her aid, with Archie ultimately punching through the ice to save her. It's a pretty intense moment.
https://www.youtube.com/watch?v=pxkDQxDftqs?feature=oembed
Well, K.J. Apa has now revealed that he actually broke his hand while filming the scene.
Speaking to TVLine about the show, the actor shared that it was a "a gnarly day of shooting."
"I wasn't really punching the ice, but I got a little bit too excited. I was punching a foam mat…[that was] sitting on the ice," he revealed. "It was cold, so I didn't really feel it. It wasn't until 20 minutes after that I realized I broke my hand. I didn't tell anyone."
Okay, that's some serious dedication to your craft.
The 20-year-old also spoke about that shocking ending of the season finale, in which Archie's father, Fred, is shot in Pop's diner.
"The death of Fred is still unclear, but either way, it's going to change Archie's life forever," Apa said. "We're going to see a darker side to him for sure."
Apa's comments echo what fellow Riverdale star, Cole Sprouse, has said about his character of Jughead, who also seems to be venturing down a darker path.
Basically, when we return for Season 2 of Riverdale we're expecting it all to be a bit bleak, and, tbh, we can't wait. Let's just hope there are no more injuries on set…