Riverdale's KJ Apa responded to criticism of his silence on Black Lives Matter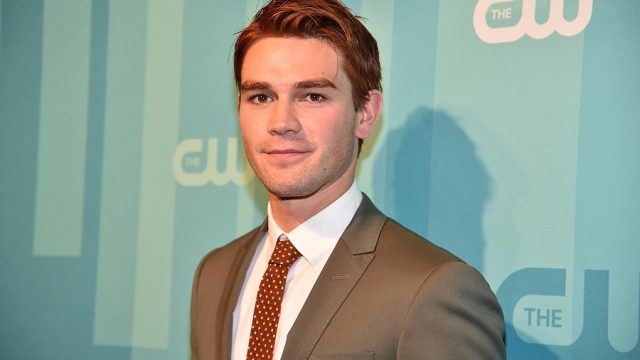 During this wave of the Black Lives Matter movement, silence has been compared to complicity. That's perhaps especially true for people with massive reach on social media who could use their significant platforms to further the Black Lives Matter mission—people like, say, Riverdale star KJ Apa, who's been noticeably silent on the subject. But Twitter users are no longer letting the actor slide by unnoticed.
This all went down on June 6th, when rapper Elijah Daniel responded to a Twitter user who recommended watching The Hate U Give, which centers on the police shooting of a Black teenager. In the film, Apa plays the boyfriend of the protagonist, Starr, who's portrayed by Amandla Stenberg (who's been incredibly active in the anti-racist movement herself).
In response to that tweet, Daniel wrote, "I love that movie but i do have a question, completely unrelated to the beef i formerly had with him, if KJ was the co-star of that movie why is he so silent? He has such a massive young audience and got paid to be in a movie about police brutality and … posted a black square?"
The "beef" Daniel is referring to is irrelevant to this conversation (sorry), but the "black square" refers to "Blackout Tuesday" that occurred on June 2nd. As Daniel pointed out, Apa hasn't vocally participated in the Black Lives Matter or anti-police brutality movements since then.
A week later, Apa responded to Daniel's criticism on Twitter: "I don't need to post about my opinions and beliefs in order for them to be real to me."
"I support black lives – but I don't feel it's necessary to prove to people I do by posting my attendance at these protests," Apa continued.
https://twitter.com/udfredirect/status/1272374017568186370
It's true that people don't need to be posting or otherwise advertising all the ways they're supporting the civil rights movement. But other Twitter users chipped in on the conversation, pointing out that it's actually the responsibility of public figures like Apa to use their voice for good—and that responsibility transcends their personal preferences.
https://twitter.com/udfredirect/status/1272382572232945665
https://twitter.com/udfredirect/status/1272379661666967552
https://twitter.com/udfredirect/status/1272391689013846022
https://twitter.com/udfredirect/status/1272386904001064961
Other users highlighted the differences between Apa and his Riverdale co-stars, almost all of whom have been active in the movement (remember that time Cole Sprouse was arrested at an anti-police brutality protest in Los Angeles?) and using their own, massive platforms to spread awareness.
Plus, earlier this month, fellow Riverdale actor Vanessa Morgan revealed that she's "the only black series regular but paid the least," and called out the show (and the media at large) for marginalizing other Black characters. Later, Asha Bromfield echoed Morgan sentiments in a conversation with Riverdale star Lili Reinhart, calling her own experience on the show "devastating." So at the very least, fans argued that Apa should be explicit in his support of his Black co-stars.
Apa has yet to respond to his critics, or, more importantly, start posting any resources in support of racial justice.