The "Kitten" Vamp Stamp is here for those who prefer a more subtle cat eye
Fans of the Vamp Stamp who are looking for a more subtle cat-eye effect will love the brand's new Kitten stamp.
For those unfamiliar with it, the Vamp Stamp is a tool designed to help you quickly achieve a perfect eyeliner wing every time. The stamp is currently available in two VaVaVoom size options, but the new Kitten version is about to slink its way into your makeup kit.
We've been waiting for this release like kitties outside a seafood store, and now we're finally getting a chance to pre-order. As an added bonus, a portion of the proceeds from the Kitten stamp sales will go toward helping actual cats and kittens!
#SaveAKittenWearACatEye
From June 20th 'til July 20th, Vamp Stamp is donating to The Cat's Meow, a Los Angeles-based, volunteer-run, no-kill shelter. The Cat's Meow rescues, rehabilitates, and re-homes cats and kittens from the streets and high-kill shelters. A flawless cat-eye AND it helps save the felines? We love everything about this.
A comparison of the stamp sizes.
The Kitten stamp is just the thing for the days when you need a little understated sexiness. Like a job interview. Or the gym. (Not that we disapprove of a big, bold cat-eye during those times. We are 100% cat-positive.)
Beyond your basic black wing.
You can use any liquid or gel eyeliner with the Vamp Stamp, but the company sells its own ink-like liner for best results.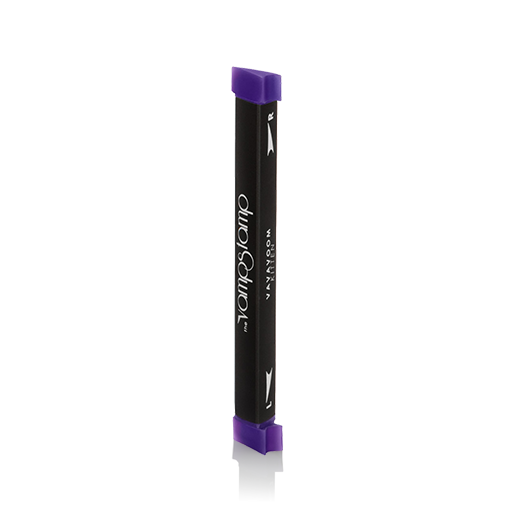 This lil gadget will save you time AND eyeliner. That's something to meow about!
Pre-order the Vamp Stamp VaVaVoom Kitten stamp now (ships after June 20th) for $25 at thevampstamp.com.