You can apparently use this kitchen appliance to make corn dogs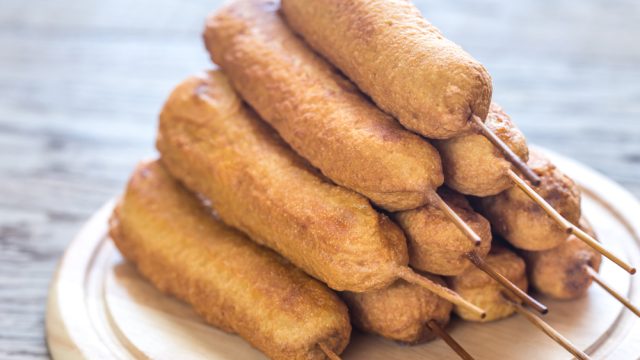 What's Memorial Day without some sort of dog? A better question is: what good is summer without good old fashioned corn dogs? Corn dogs go perfectly with everything, whether it's a poolside view, a classic barbecue, or a tropical paradise.
You may think of corn dogs as something you only get at a fair or a kitschy diner, but you can make your own at home. If you've been looking for hacks to make your own corn dog at home, check out this easy trick with the forgotten kitchen appliance: a waffle maker.
We know it's surprising, because a waffle maker may not always be the number one used appliance in your kitchen, but you can now put it to use to make some killer corn dogs, thanks to Delish.
Here's how you start in the kitchen:
Take a box of corn muffin mix. Add any necessary extra ingredients like sour cream, melted butter, cheddar or chives. After the batter is finished, pre-heat your waffle maker. Take a couple of hot dogs and stick a popsicle or skewer stick inside. Since every waffle iron is different, cooking times may vary. However, it should only take around five minutes, or so.
Check out this easy video to hack your way into corn dog heaven!
https://www.youtube.com/watch?v=2G-J9SkxbAc?feature=oembed
See what we mean? Don't underestimate the power of the waffle maker appliance. It's not just for waffles! Hashbrowns, grilled cheese, s'mores, and brownies are all in your waffle heart shaped future.