Kit Harington is working harder than a "Game of Thrones" Dothraki horse right now
The former Lord Commander himself, Jon Snow (or Kit Harington if you want to be ~boring~), has recently been spotted very literally ALL OVER THE WORLD in the last few days.
Late last week, September 2nd to be exact, Azor Ahai Harington was in New York filming scenes for his upcoming film The Death and Life of John F. Donovan. The film stars Harington as the title character, an American actor, who begins a correspondence with an 11-year-old actor in England. The film is meant to be a satirical take on celebrity life.
"Who…me? An American?" (YES).
Here's Kit on set, in action!
However, YESTERDAY Kit was spotted all the way over in Belfast, Northern Ireland (which any Game of Thrones fan knows is home base for Thrones production) – a mere 3,171 miles away from New York. And OBVIOUSLY fans were super excited to get even the quickest glimpse of Harington.
And because Kit is as lovable in real life as his Thrones alter ego, he took the time to take a photo with some eagle-eyed fans.
He knows nothing…except how to be awesome.
According to an interview with Belfast Live, Tové Kane (who took the photo) and her sister had a brief chat with Harington, and discovered "he was flying from Belfast to London on the same flight as [their] mum." LUCKY LADY!
So, WAIT – this means Kit went from New York to Belfast, (presumably) shot scenes for Game of Thrones, and is now back home in London (for now) – all in just five days?!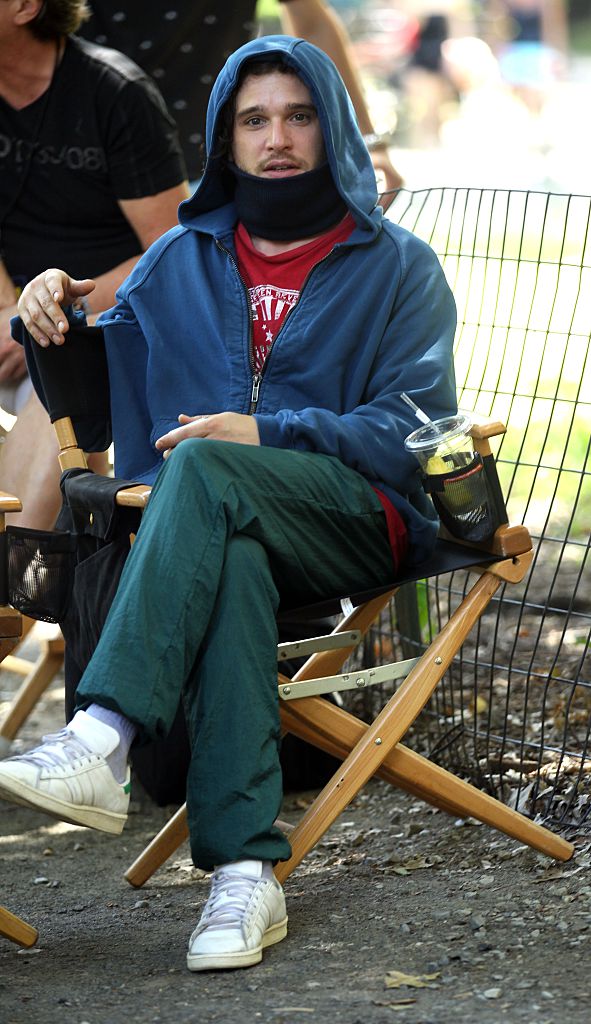 Annnnnd there's more! Kit is ALSO set to present at the Emmy Awards (which, btw, he is also nominated for in the Supporting Actor in a Drama Series category) on September 18th in Los Angeles, which is less than two weeks away. So, maybe Kit's finally getting a little well-deserved R&R in London until then?
However, shooting for Game of Thrones Season 7 is WELL underway, so who knows, he could easily find himself back in Northern Ireland before the Emmy's, too. Either way, you can't argue with the fact that Kit Harington is working harder than Ser Jorah trying to win back Khaleesi's love right now – and also rolling in some serious frequent flyer points. And we're A-OKAY with that, because we're just happy to know Kit's working as hard as ever to bring us MORE of the greatest show ever.
Looking forward to Game of Thrones Season 7 like…