These press-on nails last longer than a professional manicure and I'm officially obsessed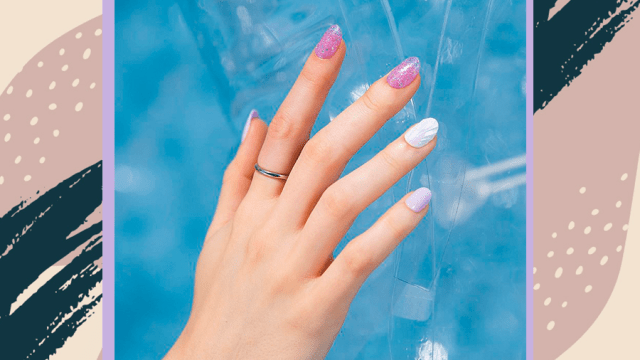 Welcome to Game Changers, a weekly series in which we reveal the holy grail beauty products we're loving now—the ones that saved our hair, cleared our skin and, in some way, changed our lives.
When I first saw a colleague wearing imPRESS press-on nails, I thought she had shelled out major bucks for some kind of custom-designed manicure. These were not the kind of press-on nails I remembered from middle school (the ones my mom found all over the house thanks to how easily they came off). These weren't clunky or ridiculously square, but rather decidedly chic, natural-looking, and polished. Looking down at my own chipped nails from a sad DIY manicure, I knew I had to give them a try. Now, they're my new obsession.
Let me just start by saying that press-on nails have come a long way. Gone are the days of clunky French tips that popped off at the slightest touch and looked like literal pieces of  flimsy plastic. Now, there are all kinds of shapes, sizes, and designs to choose from, plus new technology that better adheres to your natural nails, allowing them to stay on for much longer.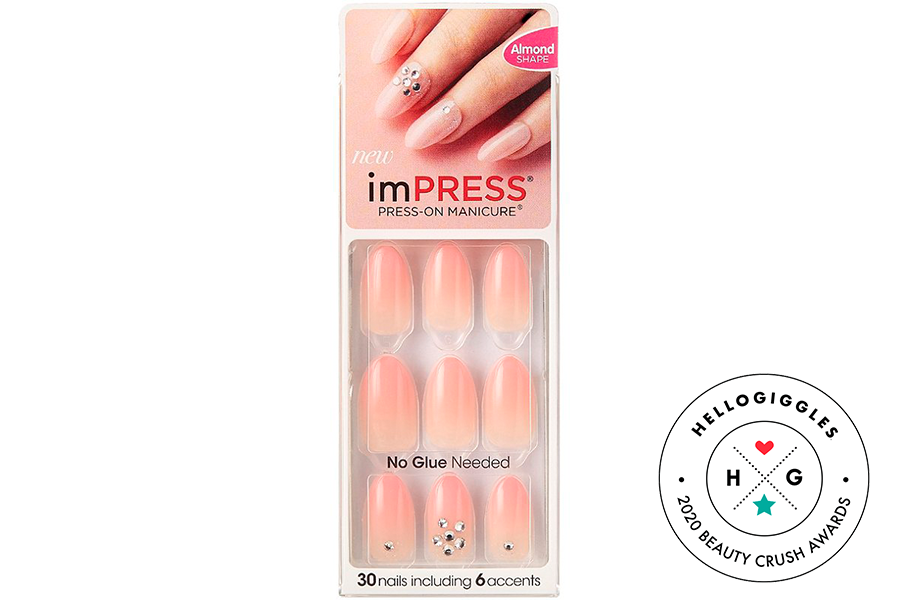 Shop it! $7.99, Ulta.com.
In the drugstore, you'll find dozens of fake nails and instant manicures, but the imPRESS sets from KISS are my go-to, so much so that they took home one of HelloGiggles' 2020 Beauty Crush Awards. As someone who has short nails prone to chipping and breakage, I've always loved fancy designs, but I've never had enough surface area to pull them off. These press-on nails, however, come in tons of different designs, with collections that include elegant gel-like finishes, luxe bedazzled options, natural nude classics, solids, and more. The best part? They won't chip, break, or lose their shine. Plus, they're an easy nail-lengthening solution for people like me who have nubs for nails.
By now, I've tried dozens of shapes and designs, and I love that I can change my look up whenever the occasion calls. Unlike traditional dip or acrylics, these press-ons are low-commitment and hassle-free.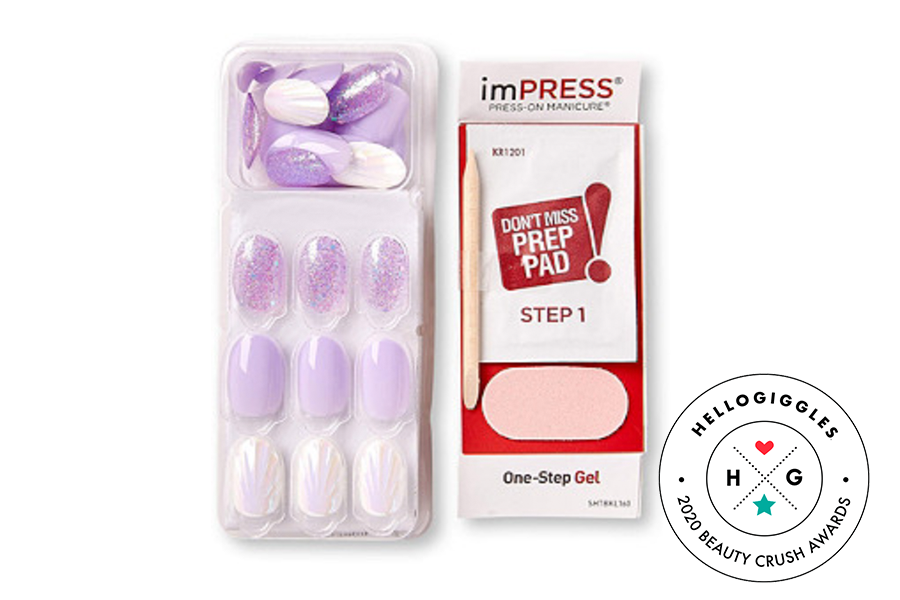 Shop it! $7.99, Ulta.com.
Applying them is easy. Each press-on kit comes with everything you need: a prep pad (to clean your bare nails of any oil or debris), a cuticle pusher, a file, and the nails themselves. Once your nails are clean and prepped, all you need to do is align them with the bottom of your nail bed, press and hold them in place for about 20 seconds (steady pressure is key), and voilà! The glue adheres to your nail.
I always try to slide the base of the press-on just barely under my cuticle so it looks completely natural. After that, I file the edge to dull it a bit, and I'm good to go! In total, I can apply these press-ons to all 10 fingers in about 15 minutes flat. Because they're so easy, I keep boxes at home and at my desk in case I'm in need of a last-minute manicure.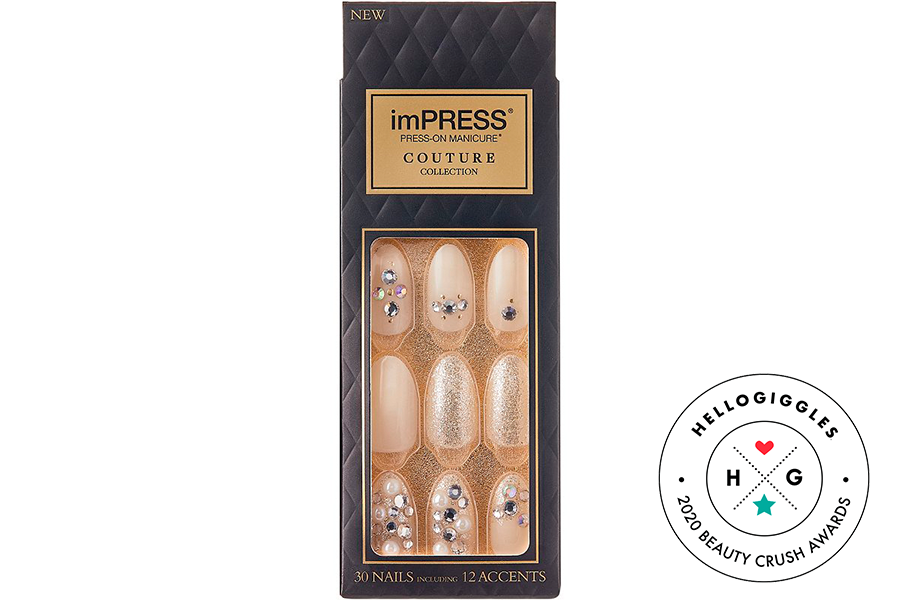 Shop it! $10.99, Ulta.com.
My favorite part (besides the dozens of design options) is how long they last. My press-on manicure usually stays for 10 to 12 days, which is truly something considering a regular professional mani usually lasts a mere five days before it chips or peels. The press-ons rarely budge, despite my constant typing and texting.
ImPRESS makes its nails with a patented dual-layer adhesive that stays put. To help them last even longer, I carry a tiny bottle of nail glue with me while I have them on in case one comes loose. Just a tiny drop of glue under the nail and a bit of pressure will reinforce it.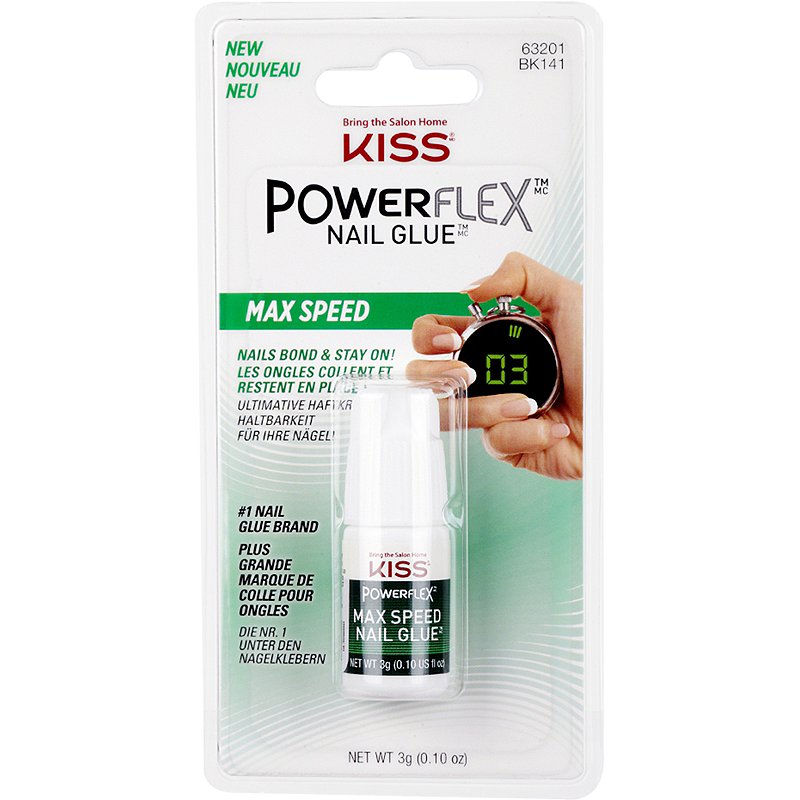 Shop It! $2.99, Ulta.com.
When I'm ready to take these babies off, I use KISS's an awesome tool to help break up the glue and get the nails off without causing damage to my natural ones. The tool contains a chisel tip that dispenses glue remover and allows me to gently nudge off the nails without soaking or pulling them off.
I'm always excited to tell people who compliment my nails that the press-ons are available at grocery stores and drugstores. I love that they're affordable and accessible, that they last, and that they make my hands look way more put together than constantly chipped polish ever would.