Then vs. Now: Kirsten Dunst's Cannes fashion evolution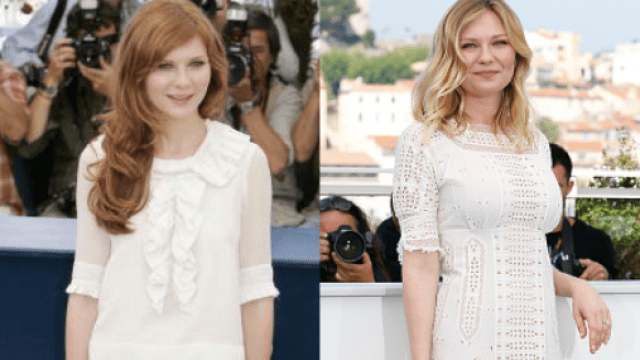 As a highly esteemed red carpet veteran, Kirsten Dunst knows a thing or two about shutting down a premiere. As an A-lister with acting chops just as sharp as her sartorial instincts, there's never been a photo call that she didn't just *slay.* Are we right, or are we right?
As Kirsten does her usual thing and, you know, crushes the 2017 Cannes Film Festival red carpet in the south of France, we couldn't help but take a stroll down memory lane and compare her first-ever Cannes cameo to this year's appearances. Since the now-35-year-old actress first stepped onto the Cannes scene in 2006 for her starring role in the Sofia Coppola-directed Marie Antoinette flick, a lot has changed. However, her sartorial savvy has not.
Take, for example, this photo of Kirsten in 2006 (left) in comparison to one taken this week.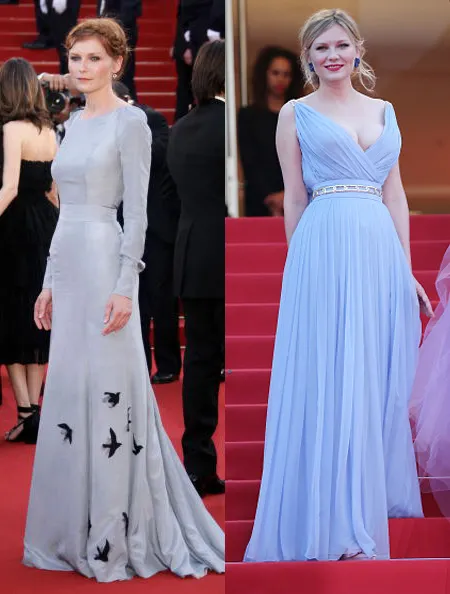 Back in '06, she opted for a regal, blue-gray Rochas gown with a sharp and sophisticated silhouette. The long ball gown even featured delicate bird appliques that softened the pristine air of the design. While 2006 may have been the era of hot pink mini-dresses and sparkly tube tops, Kirsten's style proved timeless, even then.
Now fast forward to The Beguiled premiere this year, and the actress ~continues~ to deliver. This time around, Ms. Dunst looked more like a fairytale princess come to life than a mere mortal in an elegant Schiaparelli Couture gown. The powder blue confection perfectly draped across her figure, and the embellished waist belt added a pinch of glam to the overall ensemble.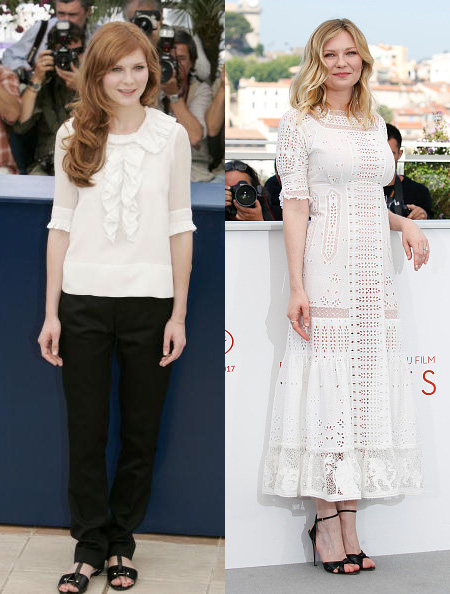 As for the photo call department, it seems Kirsten Dunst has also kept consistent with her color palettes. Back at her first-ever Cannes daytime photo call, she opted for a sheer ruffled white blouse paired with a cozy pair of slouched trousers. Those chunky black sandals also look *super* comfy, as in, we'd like to know if they're still available online somewhere…
Present day, Kirsten upped the elegance factor through the roof for her The Beguiled photo call. Epitomizing summery style, she slipped into a breezy lace Loewe dress paired with strappy black heels. Basically, she was a high-fashion breath of fresh air.
Moral of the story: Kirsten Dunst has always been and will ~always~ be a Cannes red carpet champion.