Kirsten Dunst had the most relatable seat-related mishap at the 2018 Emmys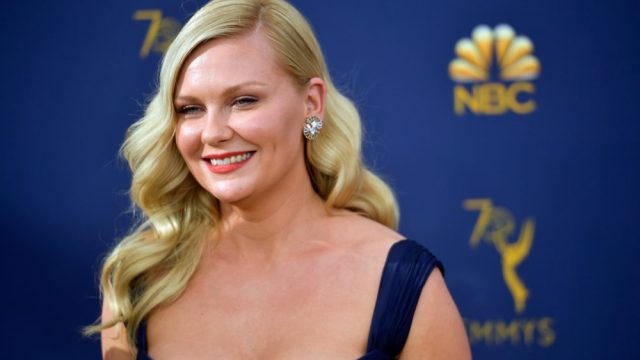 While not many of us have been to the Emmys, we can all empathize with the disaster that is finding your rightfully assigned seat at an event. Seating charts—despite their best intentions—are often a nightmare.
At the 2018 Emmys on September 17th, Kirsten Dunst and fiancé Jesse Plemons had a seating chart mishap of their own…and it was caught on national television. As The Marvelous Mrs. Maisel's Alex Borstein made her way to the stage to accept the Supporting Actress in a Comedy award, eagle-eyed viewers spotted Dunst and Plemons awkwardly—but enthusiastically—crouching in the aisle a few rows back. While many wouldn't have thought twice about celebs hanging around and chatting during the show, Dunst shared the hilarious real reason the pair were lingering in the aisle.
On Instagram, Dunst revealed that their spectacular photobomb was the result of not being able to find their seats.
It happens to the best of us, Kirsten!
The Emmys marked the first red carpet appearance for Dunst since giving birth to the couple's first child in May. The actress was on hand to support her fiancé, who was nominated for his work on the "U.S.S. Callister" episode of Black Mirror. While Plemons lost out to The Assassination of Gianni Versace's Darren Criss, the Star Trek and Twilight Zone-inspired episode picked up four awards, including Outstanding Television Movie.
The couple, who started dating in 2016 after working together on the second season of the FX anthology series Fargo, have been engaged since early 2017.
And good news—we're pretty confident they found their seats…eventually.