Kirsten Dunst and Elle Fanning made an 1860s version of a "Girls Gone Wild" video, and it sounds hilarious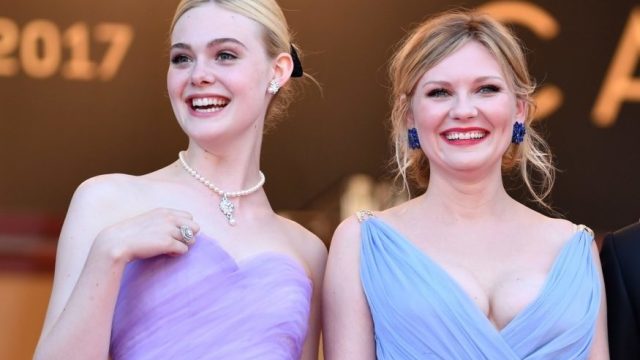 There are plenty of infamous Hollywood stories about actors hating one another while working together (hey, Feud). But even when co-stars do get along, filming a big-budget Hollywood movie is work. So it's relatively rare to hear silly on-set stories like the one about the 1860s-style Girls Gone Wild video Kirsten Dunst and Elle Fanning made while filming their upcoming movie. (Yes, really.)
Dunst and Fanning are two of the actresses in the upcoming star-studded, lady-filled movie The Beguiled, from acclaimed feminist director Sofia Coppola. Fittingly for Coppola, the new film is a feminist take on a 1971 Clint Eastwood movie about a Union soldier during the Civil War era who causes all kinds of trouble at an all-girls boarding school in the South. Colin Farrell stars as the soldier in the remake, Nicole Kidman plays the headmistress, and Dunst and Fanning play (respectively) a teacher and a student.
Basically, the movie (which just premiered at Cannes and earned Coppola the Best Director prize) sounds and looks amazing. You definitely need to get it on your radar if its's not already.
But as incredible as the movie looks, the cast seems to have had an even more incredible time filming it.
In an interview with Vanity Fair, Dunst, Coppola, and Fanning chatted about the experience of filming The Beguiled — and told one memorable on-set story in particular.
Apparently, craft services served the actresses' beverages in red Solo cups one day, and inspiration struck. In exceedingly modest, genteel Southern lady outfits, the cast decided to jokingly make a Civil War-era Girls Gone Wild video, just for funsies.
"We were all walking around with red Solo cups and like, our pastel gowns," explained Dunst. "We ran up to Sofia and flashed her our ankles."
"They were all just girls being saucy, but like the 1860s version of it," Coppola said. "That was probably the fun of making the movie […] because I knew I could make it with these guys."
Fanning also mentioned that they "did something scandalous for the era with whipped cream." Dunst joked that maybe the funny video would be released as a DVD extra, but can that maybe not be a joke? We've gotta see this hilarity (and the sexy "Colin Farrell calendar" they apparently talked Farrell into posing for mid-filming) ASAP.