Kim and Kourtney Kardashian got matching Pomeranians, and we can't stop looking at these fluff balls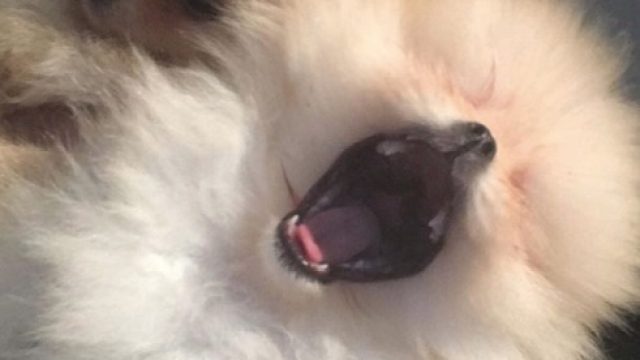 It's Monday, so we're assuming you need something cute in your life to offset that relentlessly growing tower of stress about all of the things you have to do this week. Sigh. Let's not think about it. We're here for you. Kim and Kourtney Kardashian both bought Pomeranians over the weekend.
POMERANIANS, WE SAY. And the cutest part? The matching pups are actually gifts to their daughters! We're obsessed with this cousin love!
Penelope named her pup Honey, while North is still deciding. AWW! For little North, this might be a birthday gift. She turned four on Thursday!
Here they are, in all of their glory:
SO CUTE, right? That's not the only photo thankfully. Look at all of them!
This is our fave:
SO MUCH PERSONALITY.
Kim also posted a couple of Snapchats, so we can get a glimpse of what her pup is like in action.
https://www.instagram.com/p/BVbeKIahi_0
SO CUTE. WE'RE DYING.
In an interview with K9 magazine in 2008, Kim talked about her love of dogs:
"We've always had dogs, my dad always loved pure breeds and wanted the best so he always had Dobermans when we were growing up. I think dogs are great to be around and such a valuable part of the family."
She also said that the best part about having a pet is that, "you always have a friend if you have a dog, they depend on you and you can depend on them."
So true, Kim.
She also values their intuition! "But dogs definitely do have a sense where they comfort you when you need it," she explains. "They totally pick up on things. I remember Kylie was grounded once and Dolce knew something was wrong and he just lay on her, it was like he was telling her everything would be okay."
We're so happy for little Penelope and North! Pups aren't just a man's best friend.