Kim Kardashian's makeup artist teases a secret project, and we have an idea of what it might be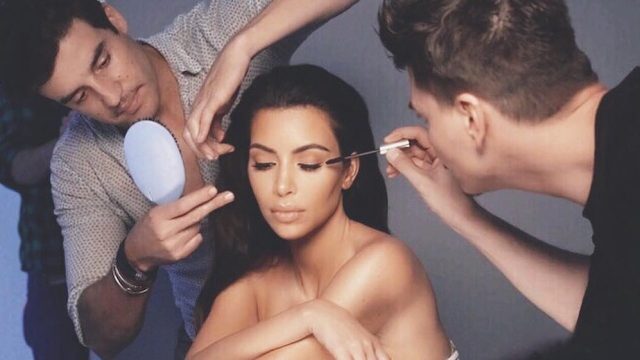 Gasp — could there be yet *another* mesmerizing KKW Beauty product on the horizon? If our social media sleuthing is any indication, then all signs point to yasss!
Since launching (and instantly selling out) her debut makeup line in June, Kim Kardashian has been hard at work whipping up even more enviable goods to add to the KKW Beauty offering. With the reality star's contour and highlight kit hitting e-shelves this Tuesday (and, you know selling out), it's only natural that Kim would be eyeing her next project.
After her trusty makeup artist, Mario Dedivanovic, posted some sneaky Instagram pics this weekend, we're even more convinced that she's up to a secret makeup collab with said makeup artist. And based on the pics, we're thinking it's eye makeup.
"BTS sneak peek… secret shoot #MakeupByMario," he captioned the snapshot, showing a fiercer-than-ever Kim K.
Given that she's already dabbled in concealers and contour palettes, it's only natural that her next target would be eye makeup. Because *obviously*, the girl knows a thing or two about a killer cat-eye and mile-long eyelashes! And we would *so* be willing to wait in line for some Kim-approved mascaras, liners, and (fingers crossed!) eye shadow palettes.
Trendmood was also quick to report that KKW Beauty and Mario were up to some makeup magic good, with Kim hinting that  "Maybe Mario and I have something coming out soon."
All we have to say is this: please, please, pah-lease let this Kim and Mario eye makeup collab come to a store near us soon!