Kim Kardashian's makeup artist shared a peek at KKW Beauty's new contour and highlight sticks in action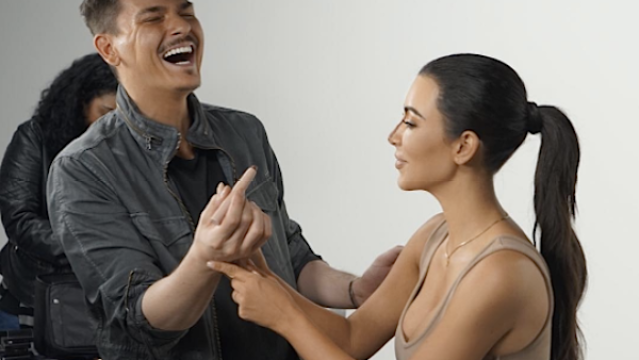 Now that we know for certain that Kim Kardashian is launching a beauty line, KKW Beauty, and we've spent the appropriate amount of time freaking out over that information, let's get focused on what's headed our way. We know we can expect a fragrance line (possibly inspired by crystals!), and a contour and highlight stick. It goes without saying we've been DYING to see what they look like. While we haven't gotten a close or full glimpse at the products, thanks to Kim's makeup artist, Mario Dedivanovic, we've gotten a sneak peek and we are loving what we see.
Even before we knew that Kim Kardashian was launching KKW Beauty, Mario had sneakily been sharing photos of the impending products.
We all assumed that it would be part of a collaboration with Kylie Cosmetics, but boy were we wrong. We were so young and innocent then.
When Kim announced the launch of her new brand, we heard rumors that the initial release would include a highlighter of some kind, but we didn't know what form it would take — it could be a cream or powder highlighter and a separate contour kit. Thanks to a little looksy from Mario, we now know that they are contour and highlighter sticks, and we couldn't be more pleased.
How convenient will it be to toss those in our bags and head out? Perfect for traveling, touch ups, and easy application. Who wants to fuss around with a messy, difficult to use contour and highlighter? Certainly not us.
https://www.instagram.com/p/BVYdFrwlI4Z
Kim Kardashian revealed that the KKW Beauty collection launches on June 21st, so you've got less than a week to wait.
You better be ready, because fans of the Kardashian/Jenner clan are going to be out in full force and ready to snatch these up faster than you can imagine. If these first photos are any indication, the products are going to be gorgeous, and we can't wait to try them out.