Kim Kardashian says she never had a feud with Taylor Swift, was just being honest
A lot of things have gone down in 2016. Donald Trump is running for president, Beyoncé slayed the world with Lemonade (and then slayed the world again at the VMAs), the olympics made heroes out of five young women, and Kim Kardashian, Taylor Swift, and Kanye West had the celebrity disagreement of the year.
Let's re-cap, shall we?
So, things basically began waaay back when Kanye interrupted Taylor at the 2009 VMAs. This one moment would kickstart a longstanding (alleged) "feud" between the two musicians. Kanye would later apologize to Taylor, who would accept the apology and they'd go their separate ways.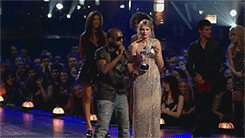 Then, during Taylor's mammoth reign as the queen of pop following the release of 1989 in 2014, the singer decided that she could be more than acquaintances with Kanye and his now wife, Kim Kardashian West. false
Of course things couldn't stay nice for long.
Everything changed when Kanye released the song "Famous" from his latest album, The Life of Pablo. Premiering the song during the Yeezy Season 3 fashion launch at Madison Square Garden, New York, it seemed that Taylor and Kanye were about to get embroiled in some more difficulty.
The track contained the following lyrics:
"I feel like me and Taylor might still have sex / I made that bitch famous"
Things escalated pretty quickly, with many of Taylor's 'squad' voicing their concerns over the lyrics.
Kanye himself took to Twitter to say that he'd actually discussed the lyrics with Taylor prior to including them and the pair were going to have a big old laugh about it all at the Grammys, something that representatives for Swift denied. false
https://www.instagram.com/p/BBrLwNwMg7v
At the Grammys, Taylor not-so-subtly made reference to Kanye's song, claiming that no one was responsible for her success except her.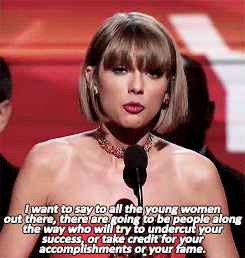 "I want to say to all the young women out there… there will be people along the way who will try to undercut your success, or take credit for your accomplishments or your fame," she said. "But if you just focus on the work and you don't let those people sidetrack you, someday when you get where you're going, you'll look around and you'll know that it was you and the people who love you who put you there and that will be the greatest feeling in the world.
Things went quiet for a bit, until Kim Kardashian West decided to get involved.
https://www.youtube.com/watch?v=8moGfBJuuJM?feature=oembed
Feeling like she needed to come to the defence of her husband, Kim decided to share a video recording of Kanye and Taylor talking about the song "Famous." In the clip, which was uploaded to Snapchat, Taylor can be heard laughing about the track and agreeing to some of the song's controversial lyrics.
Things escalated quickly, with #KimExposedTaylorParty soon trending on Twitter.
Taylor, of course, responded via Instagram.
https://www.instagram.com/p/BH_TCz4DeSj
People were quick to call out Taylor, and internet sleuths soon figured out that Taylor may have pre-written her response in the notes app, therefore knowing that there might be a video that'd appear at some point.
Since then, things have been pretty quiet. Until now…
Now, Kim Kardashian has spoken about the the supposed feud in a brand new interview.
In a recent interview with Wonderland Magazine, Kim told interviewer Eve Barlow that she wasn't trying to be nasty or malicious with her actions against Taylor.
"I never publicly talk bad about people. I still don't feel like I have," she told the magazine. "I'm being honest. I'm a fan. I like her music. There was no shade."
https://www.instagram.com/p/BKQ6XM4BW3A
Continuing, the Keeping Up With the Kardashians star did go on to say that people from Taylor's fated squad did get in touch with her via text after the whole incident.
"Girls in her squad hit me up on text," she said, before refusing to say whom. "I'm not petty."
In the same interview, Kim went on to reveal that, initially, her relationship with Kanye was a bit strained due to the constant press attention.
"When he was recording [2013 album] Yeezus, I was so pregnant and miserable," she said, honestly. "He had this aggression. You can hear it. He wasn't used to this life with me. He was super famous before, but the paparazzi life is a different world."
https://www.instagram.com/p/BKdso3qhXfH
We hope that, after this, all this feuding can be put behind Taylor x Kim x Kanye. It's never nice to see people fighting and we hope that, privately, they can all make up with each other and move on.
You can read the full interview with Kim Kardashian West and Wonderland in the magazine, which is on newsstands now.