Kim Kardashian shared the sweet story behind her stolen $4.5 million ring, we feel so emotional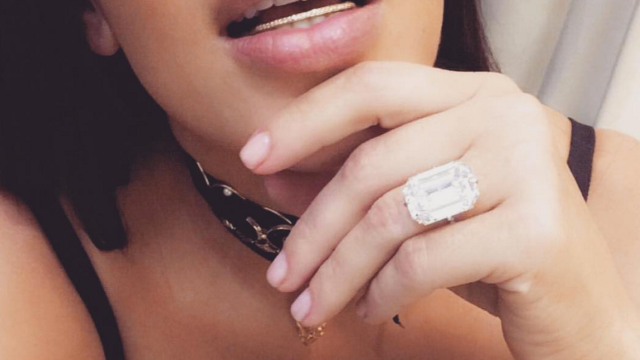 By now it's common knowledge that one of the items taken from Kim Kardashian when she was robbed in Paris this week was her massive diamond ring that was worth an estimated $4.5 million and was recently gifted to her by her husband, Kanye West, as an upgrade to her equally gorgeous — albeit slightly smaller — engagement ring from 2013 that he proposed with.
Her new ring was reportedly close to 20 carats, a sizable upgrade from the original 15-carat Lorraine Schwartz engagement ring and rumors have circulated that Kim's showing off of the ring on social media had something to do with the attackers targeting her specifically. Let's just take a look at this immense bauble in all its glory, before it was taken on October 3rd.
I mean, woah.
Of course, the fact that Kanye gave his wifey such a stunning ring is #relationshipgoals (and, quite honestly #richpeoplegoals!) to begin with, but after the ring was stolen in the attack, an interview that Kim recently gave where she discusses the totally sweet story behind it surfaced, and you're gonna feel all the feels.
Kim was chatting with Andy Cohen during The Girls' Lounge dinner in New York City September 27th, just days before her robbery occurred, and she explained that Kanye bought her the ring after he finalized his deal with Adidas earlier in the summer.
"It's a really cute story, he's going to kill me if I tell it. I was sleeping and he woke me up in the middle of the night and said, 'Babe, I got you something from Adidas.' And I said, 'I'll get the shoes in the morning, babe, like, I'm sleeping.' And then he put a box on my pillow, the Lorraine Schwartz box, and he goes 'No, open your eyes,' and I opened my eyes, and it was a box, and I woke up! I was like, 'What is this?' He was like, 'You know, I just did that big Adidas deal, so I got you something from Adidas.' And he engraved 'Adidas' on the band inside because he's funny like that."
Leave it to Kim to have the most expensive and glamorous piece of Adidas merch on the planet. Listen to her tell the sweet story behind the bling.