Kim Kardashian made a spelling mistake on Kourtney Kardashian's birthday card, but it's the thought that counts
There is no one else on the planet that can razz you like your siblings can. Best friends get pretty darn close, but there is something special about a sibling. If you have siblings, they have been there your entire life, or close to it. Siblings teach you a lot about growing up. Sisters teach you life lessons that are incomparable to anything else you've learned. Brothers can be full of life lessons as well. There's just something about siblings. They mean the world.
And in this day and age of sharing everything on social media, it is so much easier for your siblings to make fun of you. Even famous siblings do it. Some of our favorite siblings on Earth are the Kardashian-Jenners. Kourtney Kardashian celebrated her 39th birthday this past Wednesday, April 18th. Naturally, she received gifts and cards and social media shoutouts from her equally famous sisters. And because siblings are gonna sibling, Kourtney took to the internet to make fun of her little sister Kim. What for? Her spelling skills — or lack thereof.
Kourtney Kardashian has 62.6 million Instagram followers. Which means when she wants to roast one of her sisters, it's a worldwide conversation. Kourtney shared the birthday cards she received from Kim and Khloé. On the outside, Kim's card joked that it didn't contain any gluten, fat, sugar, dairy, or allergens, a tongue-in-cheek reference to Kourtney's strict diet. But on the inside, Kim accidentally misspelled the word "gluten."
Here's the front of Kourtney's card from Kim.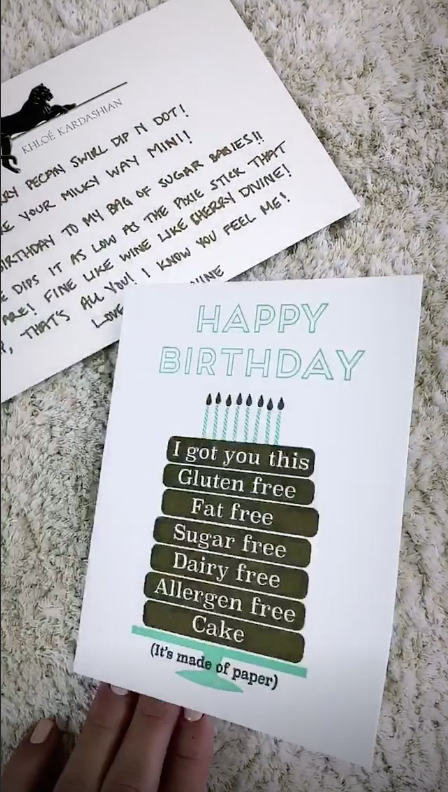 And the inside, where Kim accidentally spelled it "glueten." LOL.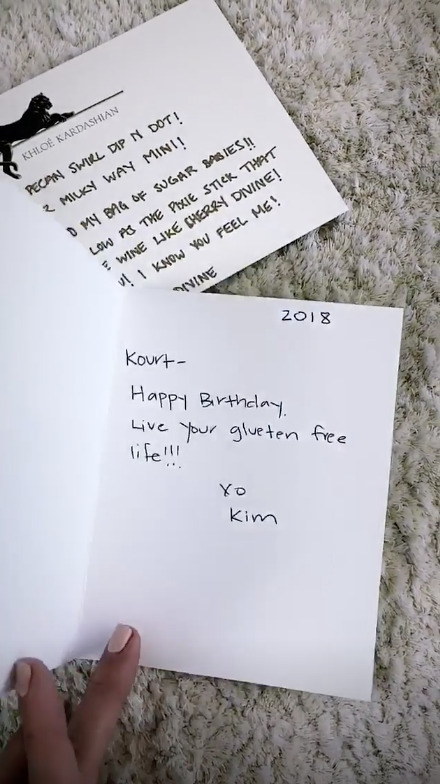 We get it, Kim. Spelling is hard and "gluten" is a weird word. Even though Kim tried to joke about Kourtney's strict diet, because of the misspelling, the tables were quickly turned. And that, friends, is what siblinghood is all about.
We hope you had a fabulous gluten-free birthday, Kourt!