Kim Kardashian shared the cutest Snapchat of North West "working out"
Kim Kardashian and Kanye West are not the only ones in their house getting Internet fame. Their daughter, North, 2, has been getting popular via Kim's Snapchat and our hearts just melted a little when we saw the latest one. If anyone should get more media attention in that house, it's super-cute North.
Here, North "works out" from a bar under a desk, with Kim saying, "That's a tough workout." The video had red heart graphics and text that said, "She thinks it's Valentine's Day EVERYDAY!!!!" then "I'm not kidding".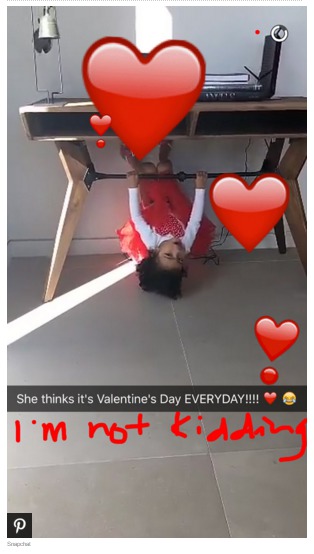 Kim is new to Snapchat herself, only having joined earlier this week, following in the footsteps—or phone-video-recording examples—of Kylie Jenner and Rob Kardashian.
But North isn't fully comfortable with Snapchat (aka "Snapchap" to the two-year-old) yet.
Why North's hesitation with the app? "Oh the filters with the crazy faces," Kim said here.
Afraid or not, North is the cutest in Kim's Snapchats, so we hope she starts to like them more. After all, in her house, it'll be tough for North to avoid media attention for long.