Kim Kardashian revealed each of her siblings' worst traits, and ouch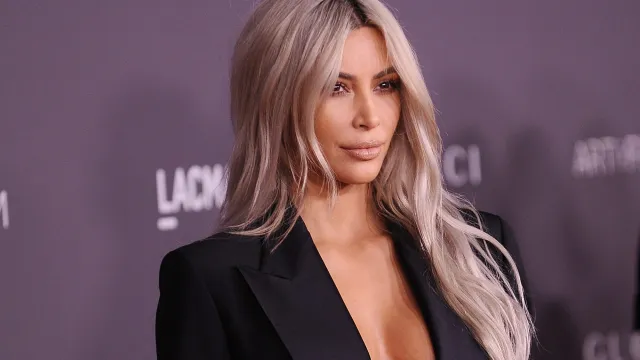 They may be one of the most famous families on the planet, but at the end of the day, the Kardashians are a normal family just like any other…which means they have normal family gripes — and we get it.
In a new interview with Vogue India, Kim Kardashian opened up about each of her siblings, sharing their worst traits…and girl did not hold back. Kim also dished about what she thinks makes Keeping Up with the Kardashians so successful even after 10 years on the air, which is that the family isn't afraid to share the personal (and sometimes painful) experiences they've gone through together.
But when it comes to her five siblings individually, Kim says there are certain things she's not so into.
When Kim was asked to "make an Uber Kardashian with the best qualities" from each family member, she explained what qualities she'd take from each, saying, "My brother's sense of humor. Kendall's sweetness. Khloé's 'I-don't give-a-f*ck' attitude. Kourtney's savviness around finances. Kylie's ability to just go for it and not care what other people's opinions are. And my mom's nurturing."
Aw! So sweet. But when asked what qualities she'd "take away," she said, "Maybe…Kourtney's stubbornness. And Khloé's getting too sensitive. I would take away Kendall's anxiety, Kylie's 'I don't care, I know what I'm doing' thing and probably my brother's moodiness."
And as for what qualities she'd remove from mom Kris? Kim replied, "Nothing. She's perfect."
Double awww.
Kim noted that she loves that the show has had an impact on viewers for more than a decade now. She said, "Every time I think, 'You guys, we filmed four seasons, what else can we talk about, what else can we do?' something else happens. Khloé comes in and says, 'I'm getting married, and in a week.' And there are so many topics that we talk about that are relevant in the world. I mean, there's so many people that have come to me and said, 'You know what? My father transitioned, too.' And I think about that. If we can help one person with what is going on in our lives, that is so worth it."
Thanks for keeping it real, Kim. As always.