Kim Kardashian shares rare "family" photo on Instagram and we're envious of everyone's style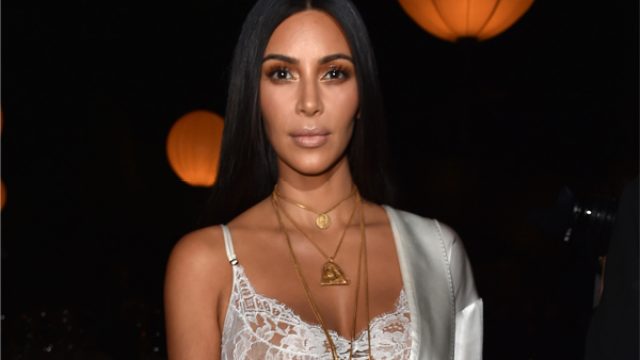 New year, new family photo? Well, in Kim Kardashian's world, sharing a rare family photo is apparently our New Year's gift!
The 36-year-old reality star shared a brand new photo of her entire family on social media on Tuesday and we're both excited and surprised.
Although Kardashian is all about sharing her life on TV, she does keep her children's lives a little more under wraps. With the beginning of 2017 however, the middle Kardashian sister has given us a look at her family and to say they are stylish would be an understatement.
"Family," Kardashian captioned the sweet photo.
In the family snap, everyone is rocking black-and-white matching ensembles and it's so chic. Kardashian is wearing a skin-tight white dress and stiletto heels, while her husband Kanye West is wearing a white sweatshirt, black pants and a black hat.
Their son Saint is like a West mini-me with his adorable white sweatshirt, black jeans and white sneakers. North looks equally as cute in her white lace dress and sneakers.
Seriously this is one perfect family!
Kardashian also shared a sweet video montage on her website today and we can't stop watching it. https://www.youtube.com/watch?v=JdGJMnLstCo
Seeing as the last picture the social media queen posted was back in October, this group picture and video is a total surprise. Keeping Up With the Kardashians fans however, are NOT mad about it and neither are we.
In fact, ever since Kardashian had her youngest child, Saint, she's been keeping her family pictures to a minimum, which we totally respect, but we do miss all the precious baby photos.
Luckily, the rest of the family does post a little bit more, especially big sister, Kourtney, who has been sharing sweet moments of her children a lot lately.
On New Year's Eve, the Kourt posted a precious picture of her daughter Penelope and it's just the cutest.
She also shared a photo of her youngest son, Reign, on Christmas Eve and we're pretty sure he's just getting more adorable every day.
Even more of the family got in on the picture action in a photo booth at mom Kris Jenner's annual Christmas Eve bash and they are totally #FamilyGoals.
We are loving all the family photos the Kardashian sisters are sharing these days. Fingers crossed Kim posts more in 2017!