Kim Kardashian had the most calm response to someone who told her not to straighten North's hair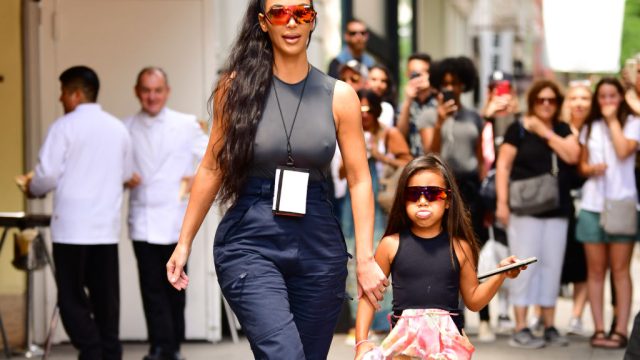 Don't try to test Kim Kardashian on the decisions she makes for her daughter, North, because she's always got a comeback ready and waiting. This time, Kardashian gave a cool, collected response when one of her Twitter followers said that she should be careful about straightening North's hair.
If you follow Kardashian, you probably noticed that she shared a super adorable photo of North this week with her usually curly hair straightened, kissing dad Kanye West on the cheek. But instead of simply admiring how cute the moment was, one person offered some advice about the five-year-old's hair.
"Don't straighten her hair too much it'll ruin her curls," one follower tweeted in response. "I did that to my hair and ruined it but I'm finally getting my natural curly hair back."
Kardashian had an answer ready: According to her, this is an old picture, and she only straightens North's hair twice a year in the first place.
"She is allowed twice a year, on her birthday and birthday party!" Kardashian responded. "This pic was taken back in June on her bday."
Don't worry, y'all — Kardashian has this hair thing handled. Fortunately, it sounds like the person who tweeted her wasn't trying to be rude and was just looking out for North's hair, which features the kind of curls that many of us would kill for and obviously should be protected at all costs. But if anyone is well versed in beauty, it's Kardashian, so of course she knows how to care for her kiddo's hair.
And let's not forget that no matter how you feel about Kardashian's decision to straighten her daughter's hair, that photo with her dad is truly the sweetest. West might not be the kind of guy who smiles a lot, but he can never wipe that grin off his face when he's around his kids.