Kim Kardashian Vague-Posts Days After Kanye West's 'Secret Wedding': 'I don't have much to say. Just much to do.'
Fans are interpreting the reality TV star's latest social media posts as a direct reaction to her ex-husband's wedding ceremony.
Kim Kardashian may finally be responding to the public news that ex-husband Kanye West has "secretly married" Yeezy designer Bianca Censori. The SKIMS creator added a series of text-based posts to her Instagram Stories late on Jan. 12, a few days after West and Censori were seen out in public together (West's first public appearance in weeks, according to numerous media outlets).
"I'm really in my quiet girl era," the star of The Kardashians explained, in a Story which may have been removed but can be seen on The Daily Mail. "I don't have much to say. Just much to do."
RELATED: Kanye West's Career Is Crashing Down Around Him As Adidas Cuts All Ties
"Just remember, the black sheep usually turns into a goat. Keep doing you," and "People who want to see you win, will help you win. Remember that," are two of the Stories which are still available for viewers.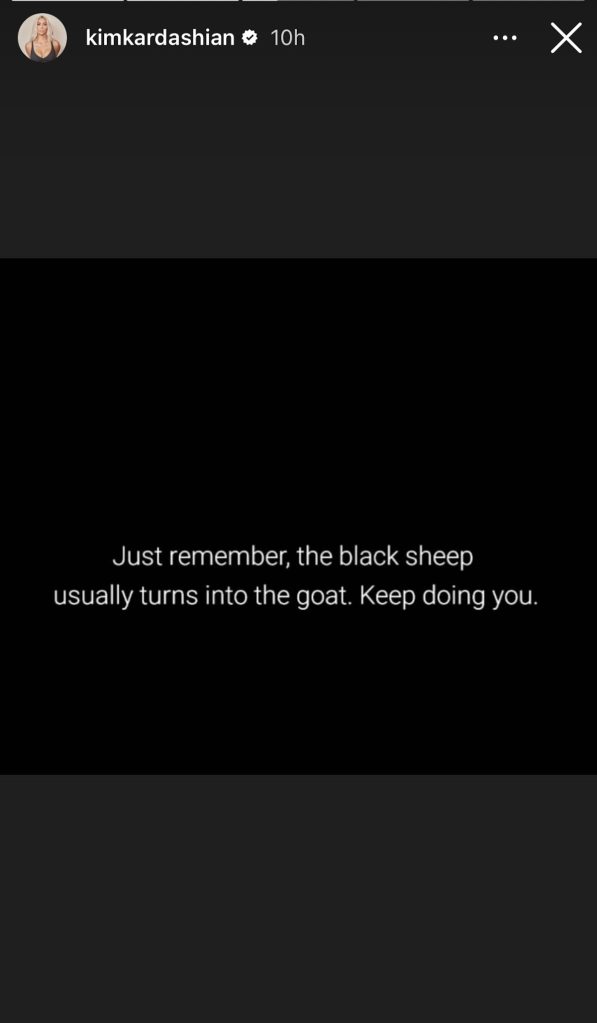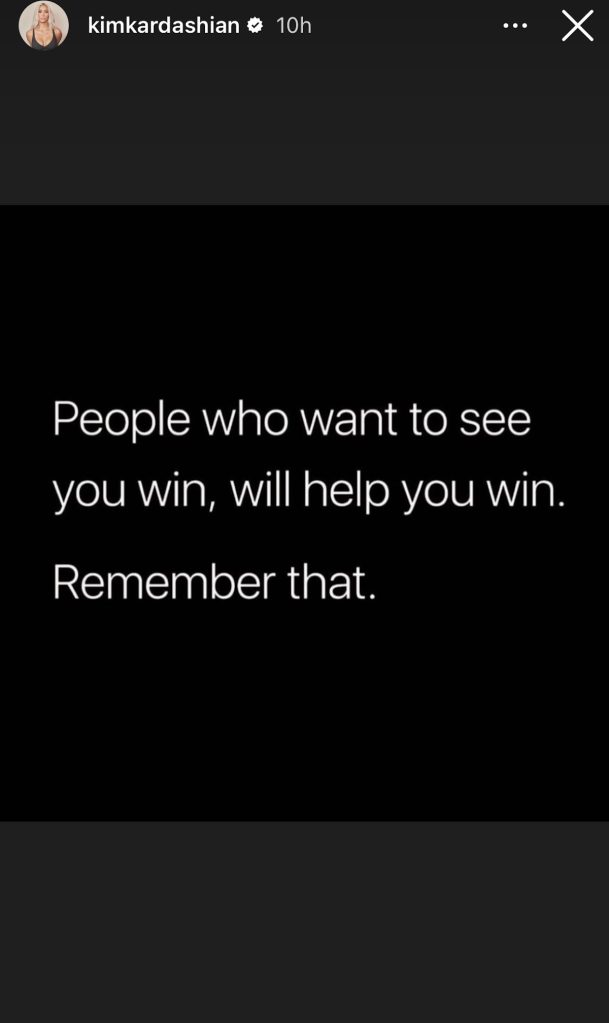 Some are interpreting these posts to be related to the West-Censori news. TMZ reported that the entrepreneur and his employee may have held a wedding ceremony recently, but that no marriage license has been filed, making whatever nuptials exchanged to be null and void except symbolically.
Kardashian filed for divorce back in February of 2021, and has been vocal about how difficult the process has been for her, particularly on the custody front.
"It's hard," the reality star admitted, breaking down into tears while a guest on the Angie Martinez IRL podcast. "Sh*t like co-parenting, it's really f*cking hard."
Despite their six-year marriage, Kardashian has been a victim of trash talk from West, especially on the parenting front. While difficult to endure, she tries her best to ensure they stay safe and happy.
"I definitely protected him and I still will in the eyes of my kids. For my kids," Kardashian explained. "So, in my home, my kids don't know anything that goes on [in] the outside world."
West himself has made headlines for hate speech and anti-semetic remarks on live television and on social media, impacting his business to the point where investors and partnerships have cut ties with the rapper.
The news of his possible wedding to Censori is also surprising after accusations of workplace abuse by former Yeezy employees.
As Kardashian navigates the media frenzy, she is taking time for self care while her latest shapewear collection hits digital shelves.
"It's not always rainbows and butterflies," she posted after the cryptic Instagram Stories. "Sometimes it's rainbows and saunas 🌈 🔥"
Kat is a born and raised New Yorker exploring the world as she writes, eats, and everything in between.
Read more