Kourtney Kardashian's birthday party featured a piñata shaped like Kim Kardashian's head, and we're traumatized
Listen, we recognize that Kourtney Kardashian has always been the alt-Kardashian. She loves a gluten-free cracker and truly marches to the beat of her own drum, but like, why does she have a Kim Kardashian piñata at her birthday, and why is Kim Kardashian so cool about it?!
On Thursday, April 19th, Kourtney celebrated her 39th birthday party with a fancy dinner party. Kim documented the entire night on her Instagram Stories, including a saucy makeout session with her husband, Kanye West. Hidden among all those fun IG Stories were photos of Kourtney's piñatas. Kourtney had specialty pinatas made in the likeness of her party guests because who doesn't want to swing a stick at a papier-mâché rendering of their own face and watch candy pour out of their skulls. Yes, we're slightly traumatized.
"Wait, look at this piñata of myself," Kim says with glee in the video. She then went on to introduce the other floating heads who appeared to represent Kourtney's crew of mom friends.
At first we thought it was some mean joke on Kim, which feels like a very Kourtney-thing to do, but when we realized that everyone had a disembodied piñata portrait, we realized that this is just Kourtney's vibe.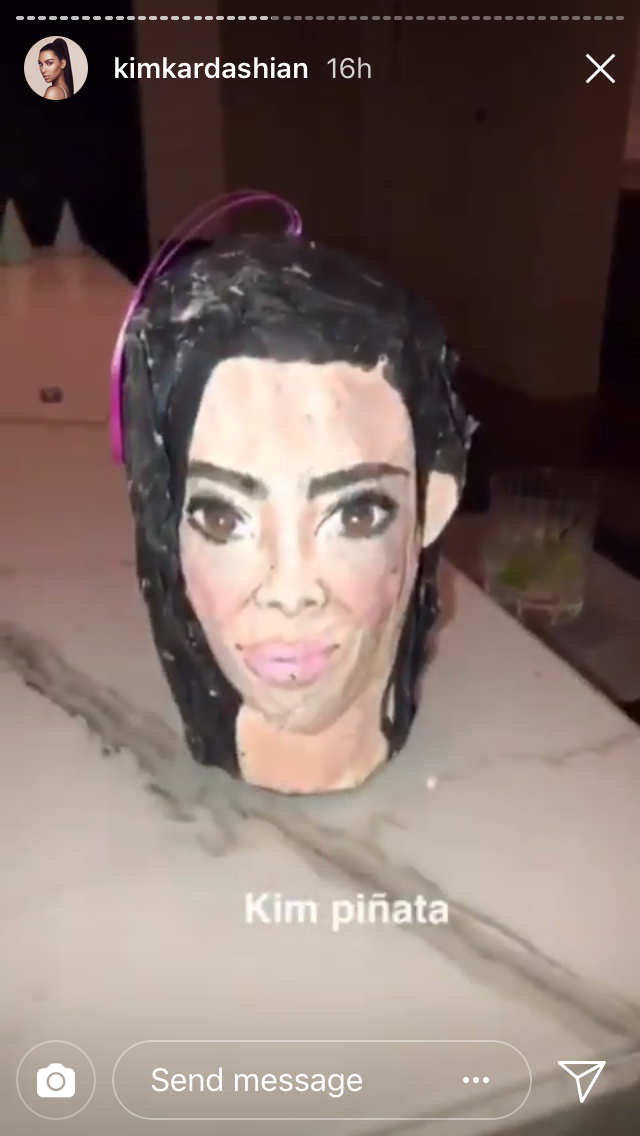 In related traumatic news, Kourtney destroyed a rainbow unicorn cake because she thought it was one of those viral birthday cakes with a confetti or candy bomb inside.
RIP to a beautiful slice of cake. Your birthday decor might be weird af Kourtney Kardashian, but happy birthday to you.