Kim Kardashian Set to Launch New SKIMS Bras with Major Star Power
And she's not the only Kardashian making news this morning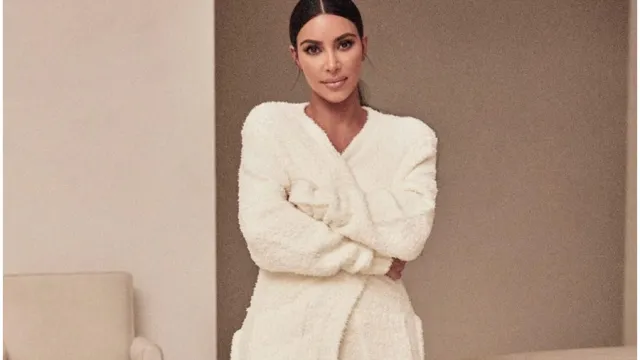 As the ultimate OG social media influencers, the Kardashians are known for launching some of the most fire products in the fashion and beauty space. On September 27, 2022, middle-sister Kim Kardashian is set to release a new line of bras from her shapewear collection, SKIMS, and we're already coveting the wide range of colors and skin tones- as well as the major celebrities (hello, Brooke Shields!) baring their bods in the ad campaign.
RELATED: 10 Reasons Why You're Dreaming About Your Ex
"These are going to be the most comfortable bras you'll ever wear," the SKIMS website proclaims, against a backdrop of diverse body shapes, types, and skin color. Models from the official photoshoot show off an array of different designs, fabrics, and colors that make the SKIMS new Naked bra line feel inclusive and accessible.
And if anyone knows how to wrangle their celebrity besties into helping blow up a campaign, it's the Kardashians. A series of posts on the SKIMS Instagram page has everyone talking, sharing, and getting ready for the official release of these baddie bras.
Think: classic supermodels like Brooke Shields, triple threat actress/singer/model Cassie Ventura, Pose star Indya Moore, singer and founder of Treslúce Beauty Becky G, funny gal Chelsea Handler and Yellowjackets actress Juliette Lewis. But the models look anything but Hollywood starlet — they seem to be shot candid-style, with minimal makeup and re-touching. 
The photos were taken by 53-year old performance artist Vanessa Beecroft, who has previously worked with Kim K's ex-husband, Kanye West.
We also love the promotional materials that include women of all ages and career types too (like forklift driver Jamari'a), showing that these bras will support you anytime, anywhere, whatever your style.
Kim Kardashian is far from the only famous family member to create her own brand. We can't get enough of Kylie Jenner's cosmetics line, and in 2016, Khloé launched Good American jeans. 
The younger sister in the Kardashian trio recently welcomed a new baby boy with ex Tristan Thompson, after battling news of his cheating scandals, and filming the latest season of The Kardashians.
A teaser trailer released on September 20th shows a tearful confession from the star, according to E! Online. "Tristan and I are having another baby," Khloé somberly says, "It's supposed to be a really exciting time, and it's just a different experience," the Good American designer adds. 
Mom-ager and matriarch Kris Jenner also made her feelings public, emotionally sharing, "it's hard to watch [Khloé] in pain," according to PEOPLE. Despite the challenging times, Khloé does admit that "it's the start of something positive and happy and beautiful," which feels comforting as the latest season begins airing.
While the family we love to follow continuously makes headlines, we prefer when they are happy ones. 
Season 2 of The Kardashians premiers on Thursday, September 22nd on Hulu. 
Katka is a born and raised New Yorker and writer who has written for Yahoo!, Huffington Post, Reader's Digest, SheKnows, Livingly, and more.
Read more