Kim Kardashian debuted neon green hair, and she—wait for it— matched it to her Lamborghini
Kim Kardashian isn't shy when it comes to switching up her hairstyles, and this time, she debuted neon green hair. But that's not even the best part. While in Miami on August 17th, the reality star matched her highlighter green extensions to her Lamborghini. 
And it seems that this kind of thing is becoming a major celebrity trend. Most recently, hairstylist Cliff Vmir, first styled Cardi B's Gatorade blue hair to not only match her mani but also her blue Lambo. And now Kim is following in the rapper's footsteps with her own version of the trend. Although, Kim joked on her Instagram Stories that she needed to get the car. She wrote, "Had to get a neon green Lambo to match my hair!!!"
The reality star has been playing around with different hairstyles lately, and this change is probably her most dramatic yet. She recently chopped it into a short bob and jumped on the glass hair trend, but now, she's rocking super long extensions.
A look at Kim's highlighter green hair.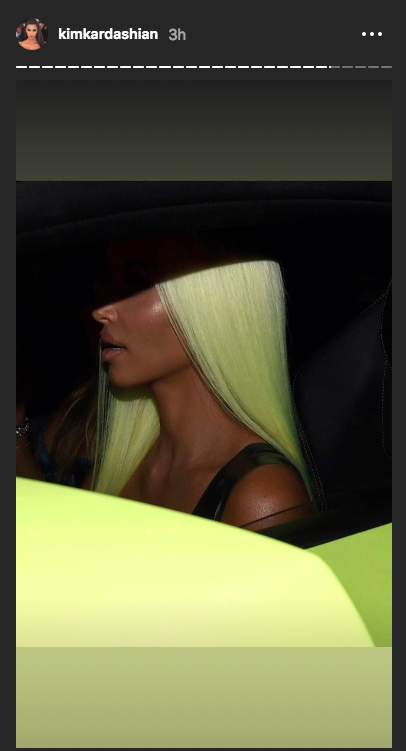 In the right light, the reality star's extensions almost look platinum blonde.
We can see that Kim was not only inspired by her hot ride, but by Miami's vibrant nightlife.
Kim's go-to hairstylist, Chris Appleton, is the one responsible for her recent 'do.
He summed the look perfectly on his Instagram, writing, "Neon nights in Miami."
https://www.instagram.com/p/BmlPT94BWPx
We can't wait to see what hairstyle Kim wears next, or what car of hers she uses as her next style inspiration.