Kim Kardashian posted a picture of her naked body modeling for her new perfume bottle, and DAMN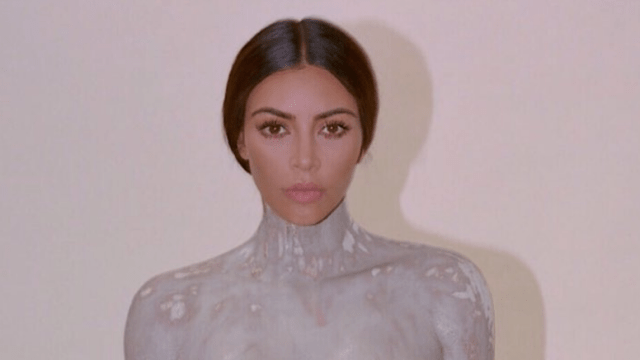 In case you haven't been keeping up with the latest in celebrity perfume news, this just in: Kim Kardashian's naked body served as the inspiration for her forthcoming fragrance bottle, and all we can say is damn, Kim!
The business mogul and reality star shared a naked snap on social media today, April 24th — with her NSFW parts covered, of course — teasing the release of her next perfume, KKW Body, due to hit shelves April 30th. The official KKW Fragrance Instagram account also shared a series of snaps of Kardashian's naked bod, cropped to conceal her head and lower body.
In Kardashian's own caption, she name-checked Vanessa Beecroft, an artist who once worked full-time for Kanye West and helped bring to life some of his most unforgettable Yeezy shows (the refugee camp show, anyone?).
And now, we have a better guess at how Beecroft was involved in the making of Kim K's new scent.
https://www.instagram.com/p/Bh9YjMlln33
Kardashian followed up her nude snap with a photo of her naked body covered in plaster, revealing that her body was used to cast a mold for the KKW Body perfume bottle.
We're thinking it's safe to assume Beecroft is the sculptor responsible for the mold of Kardashian's body, and the architect behind the bottle's design.
https://www.instagram.com/p/Bh9tmw-l4cC
In a recent interview with Business of Fashion, Kardashian described the scent of KKW Body:
"It's really cool," she said. "The scent is so good, I'm so proud of it. It smells to me like what I would think golden smells like, even though that's a color and something that's just luminous."
Sounds pretty delish to us. And combined with what's sure to be a bottle worthy of placement on your mantle? April 30th can't get here soon enough.