Kim Kardashian met with Trump again to help free another prisoner unfairly sentenced to life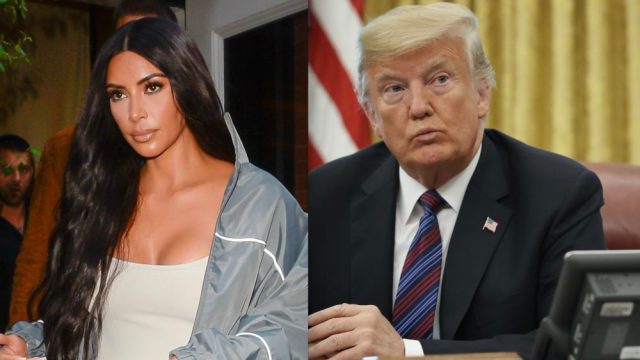 Kim Kardashian was serious when she said she would continue advocating for criminal justice reform. The Keeping Up with the Kardashians star is once again working with the White House in order to help free another convicted felon she believes was unjustly sentenced to life in prison.
According to TMZ, the 37-year-old met with President Donald Trump at the White House this morning, September 5th, to discuss criminal justice reform and the potential pardon of Chris Young, a 30-year-old man who was sentenced to life without parole after being arrested for marijuana and cocaine possession in 2010.
Kardashian, who found out about his case from Brittany Barnett, the co-founder of the Buried Alive Project, discussed the case on Jason Flom's "Wrongful Conviction" podcast. She revealed that she recently spoke with Young on the phone and promised to fight for his freedom.
"Yesterday, I had a call with a gentleman that's in prison for a drug case–got life," she said during the podcast. "It's so unfair. He's 30 years old. He's been in for almost 10 years."
Kardashian said she's also in touch with the judge who sentenced Young in the first place (per a state mandate that was out of his hands). The judge—Kevin Sharp—has since resigned his position, saying he couldn't stand being part of a justice system that issued such unfair punishments.
Now, he and Kardashian are working with a team of lawyers to help free Young.
"I was on the phone with the judge that sentenced him to life, who resigned because he had never been on the side of having to do something so unfair, and now he is fighting [alongside] us to get [Chris] out," Kardashian explained.
https://www.instagram.com/p/BnV4Uuylgq9
In June, the star convinced Trump to pardon Alice Johnson, a 63-year-old woman who was serving a life sentence for a first-time nonviolent drug offense. Johnson was freed after 22 years behind bars because of Kardashian's direct efforts. Since then, the reality star says she's been in regular contact with Jared Kushner, Ivanka Trump's husband and POTUS's Senior Advisor, whom she calls "passionate" about prison reform.
As admirable as it is that Kim Kardashian is using her platform for such a good cause, justice shouldn't depend on high-profile celebrities taking interest. If you want to help make change on a systemic level, consider getting involved with orgs like The Innocence Project—and be sure to vote in the 2018 midterm elections.