Kim Kardashian is meeting with Donald Trump to discuss pardoning Alice Johnson, a woman serving a life sentence for a non-violent offense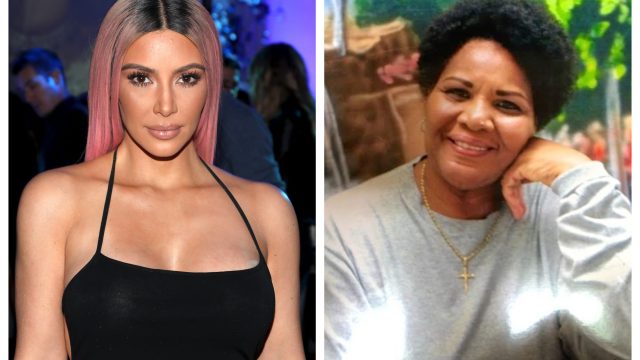 Today, Wednesday, May 30th, Kim Kardashian will reportedly meet with President Donald Trump at the White House to discuss the potential pardoning of 62-year-old Alice Johnson. Johnson is currently serving a life sentence without parole for a first-time nonviolent drug charge.
Johnson's story went viral in October of 2017 when Mic covered her case and interviewed her during her 20th year of confinement in a federal prison. The video was shared over 19,000 times and had more than 4 million views.
One of those 4 million viewers was reality star Kim Kardashian West. After hearing Johnson's story, Kardashian decided to step up and do whatever she could to help free the great-grandmother — which has ultimately boiled down to pleading for presidential clemency. Kardashian has already tapped her personal attorney, Shawn Chapman Holley, to help in the fight. The ACLU has also been made aware of Johnson's situation and used her case in a 2013 report that proved the number of life sentences given to nonviolent offenders tripled between 1992 and 2008.
According to Mic, Kardashian has also held conversations with Trump's Senior Advisor, Jared Kushner, who recently won House approval for his First Step Act — a prison reform bill that allows those sentenced to jail time to finish their sentences in halfway houses and supply them with support programs.
"If you think about a decision that you've made in your life and you get life without the possibility of parole for your first-time nonviolent offense, there's just something so wrong with that," Kardashian said in an interview with Mic earlier this month.
The Keeping Up with the Kardashians star notes that witnessing Johnson's character and her familial support system really spoke to her. Knowing that Johnson has missed milestones, like the death of her parents and the births of grandchildren and great-grandchildren, spoke to her on a personal level and made her want to take action. Kardashian decided now is the time to use her voice, platform, and means to help Johnson and her family.
https://www.youtube.com/watch?v=DLtkdjyIx7o?feature=oembed
Although criminal justice reform is in no way on the current administration's main agenda (Attorney General Jeff Sessions is all for punitive punishment for both low- and high-level drug offenders), Kardashian is hopeful she can make a difference — at least in one life.
When asked during her interview with Mic what she would say to Trump if they met, Kardashian stated that she "would explain to him that, just like everybody else, we can make choices in our lives that we're not proud of and that we don't think through all the way."
We're wishing Kardashian luck, and are eager to see how this story develops.
Update: In a May 31st interview with Mic, Kardashian said, "I think that he [Donald Trump] really spent the time to listen to our case that we're making for Alice. He really understood, and I am very hopeful that this will turn out really positively. I hope."